Dunkirk is Possibly the Best War Movie I Have Ever Seen

I have been waiting for Dunkirk for a very long time. Christoper Nolan is one of the few directors I actually know by name; I make a point to see his movies because of this. Add in a score by Hans Zimmer, a treasure trove of staple British actors, and some talented up-and-comers, and you've got a recipe for a great movie.
Dunkirk is based on true events: namely, the evacuation of Allied forces from occupied France during early World War II. (Though the movie focuses on the British, the Allied troops also contained soldiers from Belgium and France.) With the German army advancing from all sides, they were left with little option but to retreat across the Channel. However, as detailed in the film, they were basically sitting ducks on the beach, subject to artillery from the German air force as well as torpedoes from U-boats. While Dunkirk is a true story, all of the characters and events depicted in the movie are fictitious. That actually makes the film even more nerve-wracking; out of all the characters you meet, you have no idea who is going to survive until the end.
While this movie was released in IMAX – as well as 70MM – I just saw a regular viewing. As someone who suffers from mild claustrophobia, I knew this film would be difficult for me to watch. At various points, my breathing got short and I could feel my heart race. Nolan does an amazing job at capturing the desperation these boys went through in trying to evacuate. Underwater shots with people struggling to the surface, close quarters where they're taking gunfire… Everything in the film serves to ratchet up the tension.
When the beach is being bombed, you can hear a ringing, as though your hearing has been damaged by the explosion. The sound goes muffled when the camera goes underwater, as if you're actually drowning. The silence is oppressive. The music speeds up at certain points, but the most anxiety-inducing part of the soundtrack is the incessant ticking whenever Tom Hardy's character is on screen; as a fighter pilot providing air support for the evacuation, he has a limited fuel supply. The score is literally counting down to when he will drop from the sky.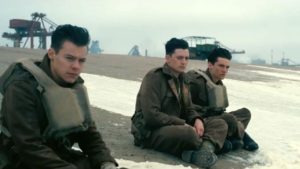 All of the characters are connected, though you don't really see how until the end of the movie. Scenes aren't shown sequentially, bouncing back and forth in the story depending on which character is the focus, but the three main threads involve a trio of soldiers (Fionn Whitehead, Damien Bonnard, and Harry Styles) trying to get off the beach, two fighter pilots (Tom Hardy and Jack Lowden), and one of the civilian boats recruited to assist in the evacuation (crewed by Mark Rylance, Barry Keoghan, and Tom Glynn-Carney).
Dunkirk may be the best war movie I have seen. Films like Saving Private Ryan showcase a lot of the carnage that soldiers experienced, but Dunkirk does an excellent job at relaying the helplessness. There is very little gore in this, because the horror of Dunkirk is more psychological than anything. It's a very tense movie; I was a nervous wreck and on the edge of my seat the entire time.
With a great director, a haunting score, and a top-notch cast, Dunkirk is a fantastic movie. Dare I say you will not regret seeing it; I highly recommend everyone do so.
Author:
Jamie Sugah
Jamie has a BA in English with a focus in creative writing from The Ohio State University. She self-published her first novel, The Perils of Long Hair on a Windy Day, which is available through Amazon. She is currently an archivist and lives in New York City with her demon ninja vampire cat. She covers television, books, movies, anime, and conventions in the NYC area.
Read our before commenting.
Please do not copy our content in whole to other websites. Linkbacks are encouraged.