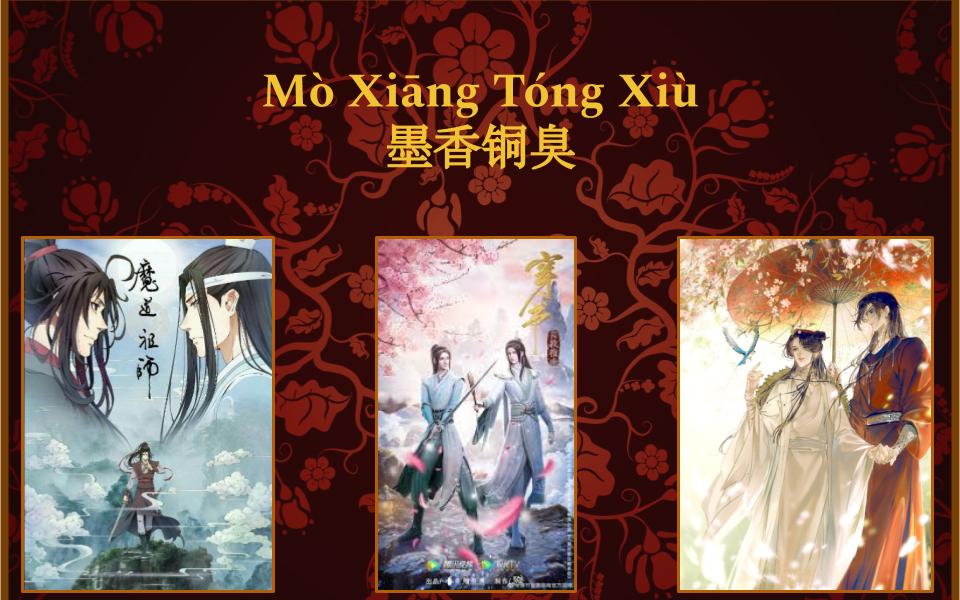 Author Mo Xiang Tong Xiu has written three danmei novels with a fourth on the way.
In this masterpost, we'll organize our coverage of work by Mo Xiang Tong Xiu works and provide additional information regarding adaptions and how to enjoy her content.
Mo Dao Zu Shi (MDZS) – Grandmaster of Demonic Cultivation
Mo Dao Zu Shi was Mo Xiang Tong Xiu's second novel, and my personal gateway into danmei novels. The story has been adapted from the original danmei novel into a donghua (cartoon), manhua (comic), and live action drama. This is by far the most adaptions of any of her works so far, though her other stories are starting to take off as well.
I've described the story as follows:
The story follows Wei Wuxian, a spiritual cultivator who died 13 years prior to the start of the story. He was a controversial figure in his time as he used the 'dark arts' to utilize his magic. He becomes known as the founder of the Demonic Path as a result of this practice.

When the series begins, a man named Mo Xuanyu decides to sacrifice his soul to bring Wei Wuxian back to life. In doing so, Wuxian would resurrect in Xuanyu's body. The ritual works, and Wei Wuxian returns, slightly confused at his unexpected resurrection, but ready to do whatever task Xuanyu has summoned him to do.

Wei Wuxian gets a surprise second chance at life, but he's haunted by the reputation he left behind prior to his death. He quickly finds himself interacting with people he knew before he died, some of whom suspect his true identity and some who don't. He embarks on adventures fighting monsters and solving mysteries across the countryside, dealing with the fallout from his previous life along the way.
Geekiary Coverage
Recommendation: Mo Dao Zu Shi/The Untamed
Lan Wangji The Forklift
Tian Guan Ci Fu (TGCF) – Heaven Official's Blessing
Tian Guan Ci Fu is the third novel by Mo Xiang Tong Xiu, and by far her largest work. The novel has been adapted into a manhua and a donghua.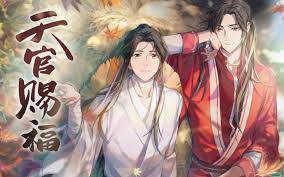 The story has been described as follows:
"Eight hundred years ago, Xie Lian was the Crown Prince of the Xian Le kingdom; one who was beloved by his citizens and the darling of the world. Unsurprisingly, he ascended to the Heavens at a very young age. Now, eight hundred years later, Xie Lian ascends to the Heavens for the third time as the laughing stock of all three realms. On his first task as a god, he meets a mysterious demon who rules the ghosts and terrifies the Heavens……yet unbeknownst to Xie Lian, this demon king has been paying attention to him for a very, very long time."
Geekiary Coverage
Recommendation: Tian Guan Ci Fu / Heaven Official's Blessing
Heaven Official's Bleassing / Tian Guan Ci Fu Coming to Funimation!
Tian Guan Ci Fu to Have Special Episode in February!
Episode Reviews
1×1 & 1×2 | 1×3 | 1×4 | 1×5 | 1×6 | 1×7 | 1×8 | 1×9 | 1×10 | 1×11
Ren Zha Fanpai Zijiu Xitong – Scum Villain's Self Saving System (SVSSS)
Scum Villain's Self Saving System was Mo Xiang Tong Xiu's first novel, but so far it has the smallest reach of all her published work. A new donghua has been released, however, so it's popularity is starting to grow pretty rapidly.
It is described as follows:
"Can't I read harem novels anymore?!"

Shen Yuan is reborn into a scum villain in a harem novel, destined to die by the hands of the protagonist, Shen Qingqiu.

But, if you must know, the original Shen Qingqiu was sliced alive by his disciple, Luo Binghe, into a human stick! A human stick!

Shen Qingqiu's heart is a full herd of grass mud horses running full tilt, yet:

"It's not like I don't want to hug the protagonist's thighs, but who let this man be so blackened. The revenge that needs to be taken is some thousands of deeds!"

Why are all the romance that should be given to the women in the plot imposed on him?

Why, as a scum villain, should he still have to take the bullet for the protagonist and sacrifice himself?

Shen Qingqiu: "……I think I can still save him one more time."
Geekiary Coverage
We have not begun writing about this one yet, but stay tuned!
Si Shen Mei You Xiu Xi Ri – There Is No Rest for The Death God
This will be the fourth book by Mo Xiang Tong Xiu. Not much has been released officially about this yet, but we're keeping our eye out for news. We'll cover this one when we hear more!