Rocky Horror Remake Makes Me Never Want To Do The Time Warp Again

I was so excited to watch Laverne Cox strut her stuff as the iconic Dr. Frank-n-Furter in the Fox remake of the
Rocky Horror Picture Show
, but the experience as a whole was so over-polished it ended up on the other side of boring.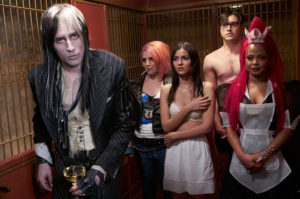 There are, in my opinion, three main charms of the original Rocky Horror Picture Show movie: the camp, the awfulness, and the countercultural aspects (and I suppose if we're being honest, Tim Curry's gams). I don't think the first two are a literal necessity, but I do think the weirdness needs some kind of outlet. The shiny Disney-channel-star-esque performances of most of the main cast didn't achieve any of that. I mean, their singing was good! All of it! Where were the weird voices, the shrillness, the loud seemingly out of nowhere outbursts? Where were the strange camera shots, the eroticism between a butler and his clock, a maid and her stuffed vulture?
The Rocky Horror remake does achieve counterculture in one very big way, and her name is Laverne Cox. A Black trans woman lead is an awesome accomplishment, and she was quite clearly the highlight of the entire movie. Maybe it's my own biases toward this amazing performer, but every moment she was onscreen was electric and captivating. I only wish they'd have let her show off more of her range; the moments she climbed into falsetto were incredible!
But it wasn't perfect. There is a kind of vulnerability to Tim Curry's Frank-n-Furter that Laverne's did not display; pulling up his doctor's robe while chasing Eddie around the lab, screaming "I DIDN'T MAKE HIM FOR YOU!" when Janet insults Rocky, smearing his makeup before his final song is sung. Perhaps this is where a cis white man playing a gender nonconforming character is allowed to have fun with the role in ways a trans black woman playing the same character cannot, but I think it restricted what was an otherwise bombshell performance by Cox.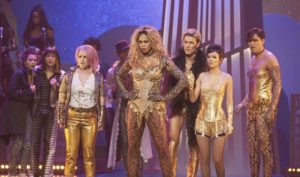 And we have to talk about the consent issues, because they were egregious. It's not like the original Rocky Horror Picture Show is totally on the level consent-wise, but the remake was way worse, and when you throw in the fact that Laverne Cox is trans, the movie really did a disservice in this regard. Rocky is supposed to worship Dr. Frank-n-Furter, and yes, this is supposed to be an unhealthy dynamic — but in the remake, Rocky was scared and nonconsenting from the beginning! And the scene where Dr. Frank-n-Furter seduces Brad was so incredibly wrong and uncomfortable. Somehow these two characters ended up in the most intimate positions otherwise, making out and kissing on necks, etc, but that doesn't make up for the rape scene that came before those moments.
Between the over-brightness and the issues with consent, my actual selfish and biggest problem with this Rocky Horror Picture Show was the fact that way too much of the movie was a shot for shot remake of the original. I don't understand this! They weren't making a campy B-movie; they were filming a different version of a musical. Except it turns out that they were filming mostly the same version of a musical with an updated cast, some fancier choreography, and better scene composition. Which is to say, much more boring.
I didn't dislike all of the Rocky Horror remake. Besides the shining beacon of talent that is Laverne Cox, I did really like the updated Time Warp sequence. Tim Curry as the Narrator was divine, and I really appreciate how they matched the pace of the dialogue to the rest of the film, to accommodate his speech patterns post-stroke. I also liked the costumes, which were literally the only thing on screen that was almost totally different than the original movie. They were… kind of awful, like something you'd put together from eBay corsets and other shiny materials when you first learn how to use a sewing machine and are really really into pulpy sci-fi. Which is to say, perfect for the Rocky Horror Picture Show.
K-K Bracken grew up overseas and in the Washington, DC area, went to the Ohio State University to get her BA in English, and has been in Columbus, Ohio ever since. She is currently querying her first novel ORCHESTRATION under the name Bracken Beveridge. She is the founder and organizer for the first Steven Universe exclusive fan convention, Beach City Con.

-


*Read our before commenting.*

Please do not copy our content in whole to other websites. Linkbacks are encouraged.