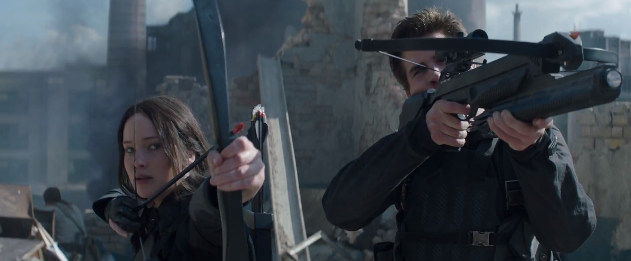 The first trailer for The Hunger Games: Mockingjay, Part 1 is finally live after months of fan anticipation and build-up via clever viral marketing. While less than two minutes long, the trailer packs in a solid amount of intense moments and merely whetted our appetites for the film's release on November 21st.
Please continue this article with caution, as there will be spoilers.
Though the most controversial and arguably the least liked of the three Hunger Games novels, the Mockingjay trailer makes the film version look both action-packed and emotionally draining. Though there are still rumors of where the film will end in terms of the narrative of the book (the most common belief is that the film will conclude with Peeta's rescue from the Capitol), it's clear that the trailer is trying to imply that the film will not be slow (some might say boring) or as inwardly focused as the book was.
It also showed characters that did not appear in the book until the second half, which makes this fangirl wonder if these fan favorites will make earlier appearances to appease the movie audiences (looking at you, Effie)?
While we still have roughly three months until we can analyze the film and compare it to the inspiration, the trailer gives us plenty to have intense feels about and critique. So let's count down the most interesting and feel-worthy moments of the new Mockingjay trailer!
5. A silent Gale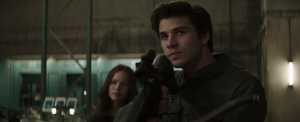 Gale becomes a much more narratively important character in Mockingjay. Rather than just being that other dude Katniss may or may not like-like, he becomes obsessed with the rebellion in Panem and tries to inspire the same fervor in Katniss. Unlike the previous two books where Gale all but disappears about a quarter in, here he is an integral character and his anger at the Capitol is very real and very intimidating. Therefore, it's interesting that a character who finally develops a full voice in the book is entirely silent in the trailer.
Along with Katniss, he is the first character you see in the trailer and he pops up several times, usually with a weapon in hand. Like Katniss' bow and arrows, his crossbow seems to be integral to his existence. Yet, aside from his use of a weapon, he doesn't do anything in this trailer. Even the brainwashed Peeta speaks more than him. I guess we'll just have to wait until the next trailer to see if he gets a line of dialogue in the marketing. Perhaps it's because the audiences are more familiar with Peeta (Josh Hutcherson) that this trailer doesn't linger on him. Who can say?
4. A look at District 13
The underground District 13 has a distinctly gray and structured way of life. For the film audiences, this was the first clear look at the mysterious district. Though Katniss' own District 12 was also drab and gray, 13 has a distinctly modern and quite terrifying feel to it. Surrounded by nuclear weapons and run rigidly down to the minute for each resident, 13 is portrayed as basically the opposite of the colorful, anything goes Capitol. Yet it's just as frightening.
Katniss' threat that 13 can "find another Mockingjay" illustrates the darkness of the rebellion and its similarity to the Capitol in its use of propaganda and children for its own political gains. Even the quick moments of seeing President Coin and Plutarch are severe and intimidating. Seeing Katniss stand up to them was quite exhilarating.
3. "You're alive."
Ok, Everlark shippers, this was your moment. Katniss discovers the truth about Peeta: he's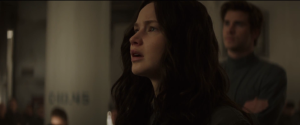 very much alive and very much brainwashed by the Capitol to denounce her and the entire rebellion. It's heartbreaking and scary and for an actress of Jennifer Lawrence's (Katniss) caliber, it appears to be a genuinely moving moment in the film.
Even if you hate the love story subplot of The Hunger Games trilogy, and even if you hate the epilogue (which I won't go into here), you have to admit that Jennifer Lawrence sells the horror and disbelief in seeing Peeta hurt and used quite well. In fact, the main thing this fangirl is not looking forward to in this film is seeing so much less of Peeta and his interactions with Katniss than we did in the other films. Perhaps, however, their separation will only make this fangirl's heart grow stronger.
2. The surprise appearance of Effie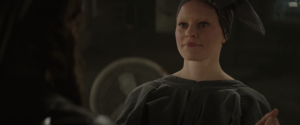 Effie Trinket, as played by Elizabeth Banks, quickly became a fan favorite with the first Hunger Games film ("That is mahogany!"). Yet in the book, she does not appear until the second half and even then, it's for a short amount of time. The movies basically ignored the rest of Katniss' beauty team from the Capitol, but their imprisonment and torture in Mockingjay was a particularly harrowing plot point. Perhaps the reason why we're seeing Effie in this trailer is because they've replaced the rest of the team with her and maybe it'll be Effie that is imprisoned and tortured. While I certainly don't wish that on such a beloved and harmless character, it could very well be a change that the writers and director of the film decided upon. After all, Effie is as much an integral character to the films' audiences as Haymitch, Peeta, and even Katniss.
1. Finnick
Perhaps this is just an excuse to fangirl about my favorite male character in the books, but the inclusion of Finnick in the trailer is particularly significant to me. For one thing, it is in this book that we learn the dark truth about Finnick: that he was essentially prostituted out by President Snow to be sexually abused by high-ranking citizens of the Capitol. We also learn more about his tragic love story with the emotionally damaged Annie. Whether or not Annie is fully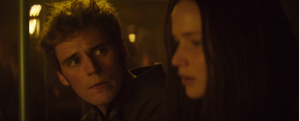 included in this film, I can't say. Nor can I say that the film will boldly explain that the hypermasculine Finnick is a victim of systematic sexual abuse. I certainly hope that the film does not shy away from this, as I think it's important for pop culture to realize that men can very much be victims of sexual abuse. The nervous and tight expression on Finnick's face as he looks at Katniss in his own moment in the trailer gives me hope that his tragedy will not be overlooked. Also, I just want to see his wedding and he and Annie be happy, even just for one scene.
Tell us what your favorite moments were from the trailer below! And what are you most looking forward to seeing in the film?

-


Read our before commenting.
Do not copy our content in whole to other websites. Linkbacks are encouraged.
Copyright © The Geekiary