Bleach x 580 Review: The Light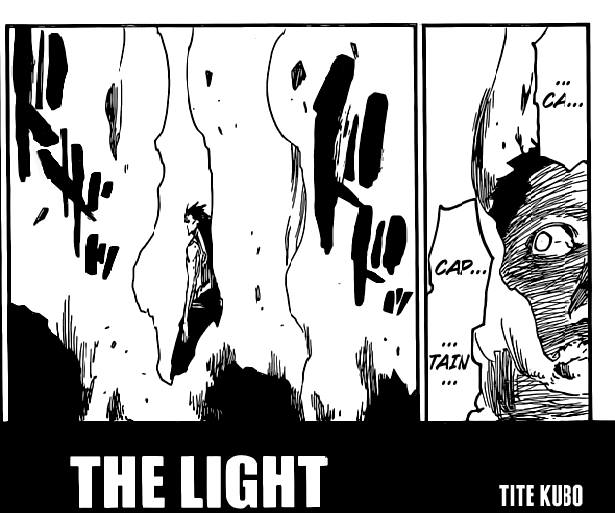 This week's manga issue of Bleach picked up right where the previous one left off. We got to know about the powers the group of female antagonists have, fodder shinigami got killed left and right and a mysterious arrival at the end of the issue made the whole thing one hell of a ride.
Even though Zaraki Kenpachi is very strong, he still needed time to recover from his previous battle, and that's why the female Sternritter's attacked him. I was expecting the issue would move to some other character this week, but I guess the writer Tite Kubo wanted to give us another dose of Kenpachi, and I'm not complaining. I just hope we get to know about Yachiru's fate soon. I love the little pink haired character.
Candice Catnipp with the title 'Sterntittter T' or 'The Thunderbolt', who I think is the leader, threw thunderbolts at the fodder, wiping most of them out. Kenpachi jumped in the air and she barely avoided his attack. It's amazing to realize that Kenpachi would have wiped the floor with all of them if he was at full power. The group also included Liltotto Lamperd (Sterntitter G or The Glutton) and she ate some shinigami, stating she was still hungry in the end. Meninas McAllon, Sternritter P or The Power, threw a building on the good guys. Some of the shinigami charged towards Giselle Gewelle, Sternritter Z or The Zombie. After a shinigami's attack cut her shoulder, her blood sprayed out and whoever came into contact became her personal corpse and she ordered them to commit suicide.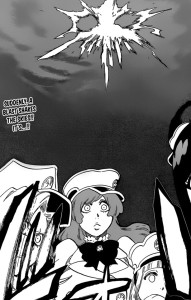 It was fun to see the powers each female possessed. They even managed to take Kenpachi down and got into an argument regarding who would deliver the final blow. I knew Kenpachi wouldn't die, he's too great a character, but I was still a bit worried seeing him lying on the ground, unable to move his weak body. However, before a decision could be made, a blast in the sky caused the girls to stop, and they looked afraid.
I have no idea who it could be. Has Ichigo, the main character, arrived at the battlefield? I don't think he would appear so soon in the manga. The female sternritters don't feel powerful enough for the main character to fight them. I'm hoping that it's Yoruichi. It's been so long since the manga showed her, and her taking on all the female sterntitters would be epic! I'm still waiting for Chad and Orihime to make an appearance. Zenpachi needs a healer right now, and Orihime is perfect for the job.
What did you think of this week's issue of Bleach? Who do you think has entered the battlefield? Please share in the comments section below!
Author:
Farid-ul-Haq
Farid has a Double Masters in Psychology and Biotechnology as well as an M.Phil in Molecular Genetics. He is the author of numerous books including Missing in Somerville, and The Game Master of Somerville. He gives us insight into comics, books, TV shows, anime/manga, video games, and movies.

-


*Read our before commenting.*

Please do not copy our content in whole to other websites. Linkbacks are encouraged.