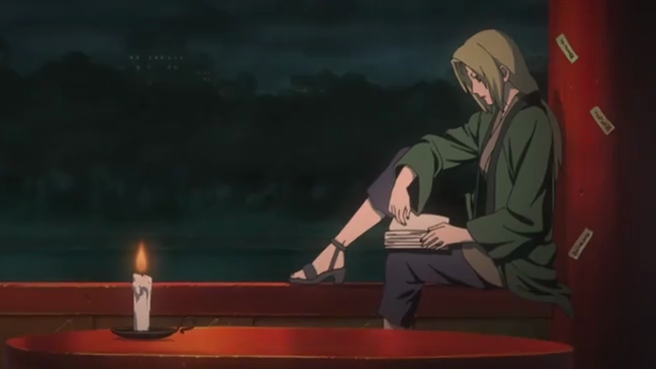 This week's episode of Naruto Shippuden: Jiraiya's Shinobi Handbook "Tale of Naruto the Gallant – The Search Mission" continued Tsunade's dream due to the ultimate genjutsu and I have to say that I'm enjoying the current filler arc very much. It's fun to see familiar characters go up against powerful foes as Genins.
The whole premise of the arc is about Tsunade reading Jiraya's fictional work about the child of prophecy, who happens to be Naruto. Judging by the age of the characters the story takes place before the Chunin exams, and the Fourth Hokage is still alive in the dream world.
The characters haven't changed much of their personalities, which is a good thing in my book. Even though the Uchiha Clan wasn't massacred Sasuke still retained his somewhat dark attitude. His rivalry with Naruto made for some of the better comedic sequences in the episode. Sakura's crush over Sasuke was toned down a lot in the episode, which makes me think that Jiraya wasn't a fan of it in the first place. I'm not complaining because Sakura's eye-roll inducing crush on Sasuke did no favors to her character in the manga.
The main plot of Jiraya's story focused on the Genin teams going on a mission to find some missing Jonins. As expected, things didn't work out well for any of them as each team's captain got kidnapped too. I greatly enjoyed the scene were Shikamaru predicted how members of each team would behave. He's clearly one of the smartest ninjas in the Naruto universe and it was nice to see the anime showcase that.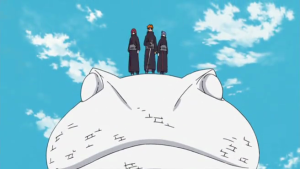 Pitting the young ninjas against the Akatsuki felt a bit far-fetched to me. Yes, the same characters took them down in canon, but they were Jonin's and Chunin's at that time, and even then it wasn't easy. Seeing such young ninjas take down the Akatsuki, while entertaining, just won't feel right to me as the current arc progresses.
I have no idea why the Akatsuki decided to kidnap Jonin level ninjas and that's one of the things I'm looking forward to. In canon their aim was to capture all the tailed-beasts in order to control the whole world. But with the current arc being about a story that Jiraya wrote about Naruto, some things were bound to change and I hope it's for the better.
What did you think of this week's episode? Did you enjoy Jiraya's story? Will the Genins be able to defeat the powerful Akatsuki? Let us know!
Author:
Farid-ul-Haq
Farid has a Double Masters in Psychology and Biotechnology as well as an M.Phil in Molecular Genetics. He is the author of numerous books including Missing in Somerville, and The Game Master of Somerville. He gives us insight into comics, books, TV shows, anime/manga, video games, and movies.

-


Read our before commenting.
Do not copy our content in whole to other websites. Linkbacks are encouraged.
Copyright © The Geekiary