Shokugeki no Soma 3×15 Review: Jeanne d'Arc Rises

The Advancement Exams continue in "Jeanne d'Arc Rises". The pacing continues to be a bit fast, with the first of the episode containing their second exam, while the second half of the episode features the gang sightseeing in Sapporo. The manga sometimes seems to crawl, but the anime is going much more quickly than I expected it to. The end of the episode features a reveal that I didn't think was coming for another episode or so.
Central continues to be a completely useless villainous organization in 'Jeanne d'Arc'. As in the last episode, the examiner purposely manipulates the exam so that the rebels are left with inferior – or in this case, no – ingredients. The task is to make a noodle dish, but by having all of the rebels go last, it means that there are noodles for them to use. And with the snow in Sapporo piling up, they're unable to go into town and find additional ingredients the way the other students were.
But, because most of the members of Central are incompetent, they forgot that potatoes are a starch, so all of the rebels make a version of udon using potatoes to make the noodles. And as the same with the examiner from the first round, he is too awed by their amazing cooking to just fail them outright. All of the rebels pass. The examiner blames Erina for basically telling them what to do, but Erina points out that all she did was teach them facts about potatoes; they were clever enough chefs to come up with a solution on their own. "How did all the rebels band together?" asks the examiner about a group of actual friends. Yet more proof that these guys are Saturday morning cartoon villains.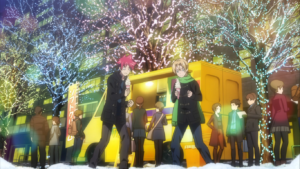 The second half of "Jeanne d'Arc" shows the gang getting to be kids again, at least for a moment. They're eager to explore Sapporo with the brief break they get before having to move on to the next stage of the exam. They split off into groups or pairs, and this gives us the chance to see people together that we haven't seen in a while. Yukihira and Takumi together are a delight, and it's been a while since we've really gotten to see that. I loved them absolutely freaking out over really good ice cream. I also loved Ikumi's speech to Erina, as well as the little bit of bonding between Erina and Megumi.
The big punch comes at the end, when Yukihira, Takumi, Erina, and Megumi show up at the train station and discover that the group has been split up and sent to different destinations. Not only that, but the next stage for the rebels is a direct confrontation with members of the Elite 10. They are informed of this change by a gleeful Rindo, who also promises Erina that there will be no more underhanded tactics when testing the rebels. Their next battle will be a straight competition with the best chef winning.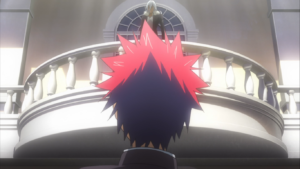 I've known this was coming, but it's still dramatic as all get out to discover that Yukihira's opponent will be Hayama. The music and the reaction shots really helped make that reveal, and Hayama doesn't even really look like himself when they show him. I'll tell you, it was such a shock in the manga when I got to this part. It felt like a huge betrayal – I think I may have actually gasped. I kept wondering where Hayama was, but they never really mentioned him until this. I'm glad that in the anime, Yukihira kept bringing him up, so they were foreshadowing this a little bit better.
The upcoming challenge is some of the best from the manga, in my opinion. Yukihira and Hayama Revenge Match (again)! I'm really excited to see it animated.
Have you guys seen "Jeanne d'Arc Rises"? What did you think?
Author:
Jamie Sugah
Jamie has a BA in English with a focus in creative writing from The Ohio State University. She self-published her first novel, The Perils of Long Hair on a Windy Day, which is available through Amazon. She is currently an archivist and lives in New York City with her demon ninja vampire cat. She covers television, books, movies, anime, and conventions in the NYC area.

-


*Read our before commenting.*

Please do not copy our content in whole to other websites. Linkbacks are encouraged.