America's Ass Giveaway: Open Your Booze with America's Ass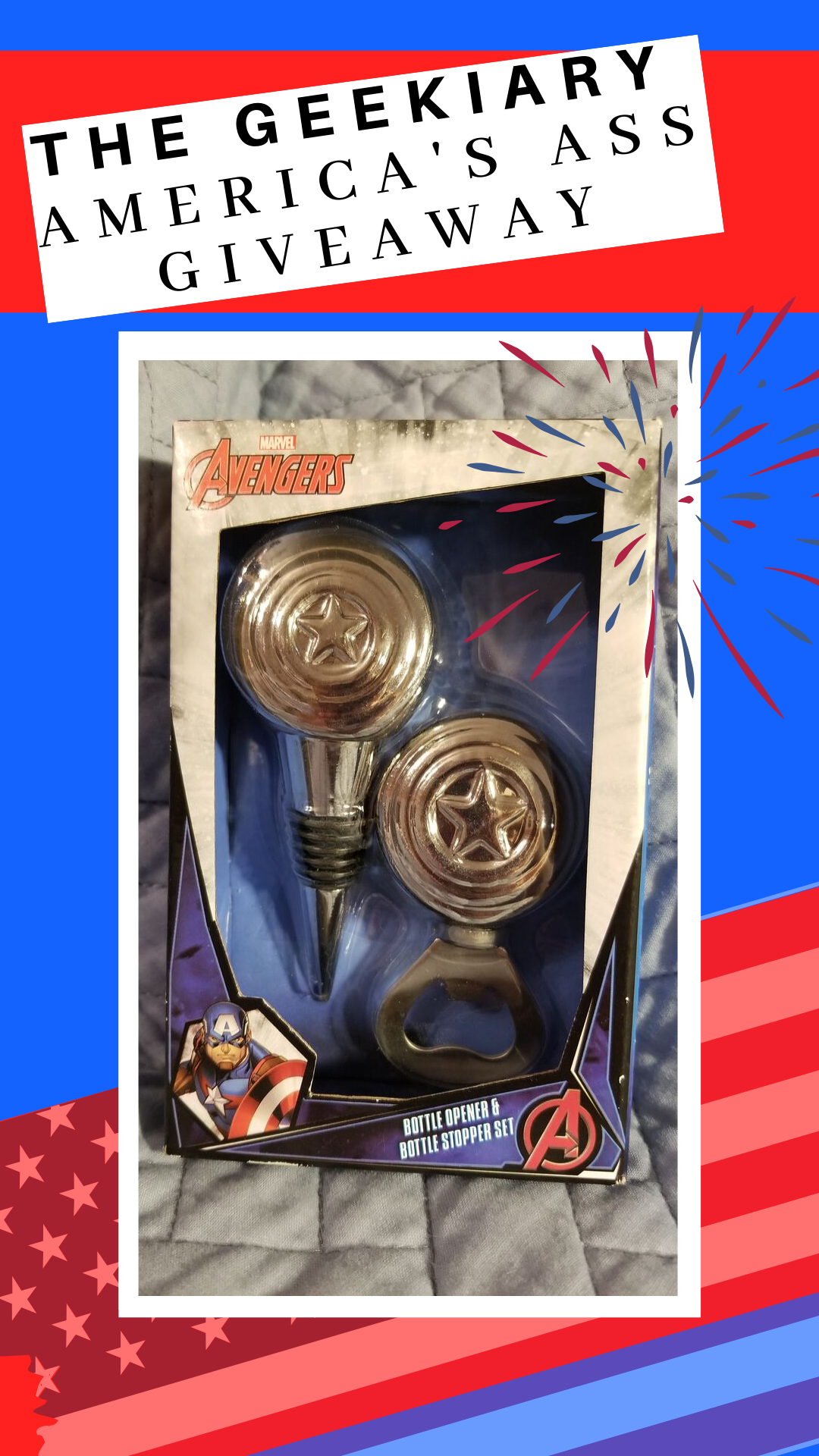 On a scale of one to America, how free are you to enter The Geekiary's America's Ass Giveaway? We'd reckon you're probably an America–or at least a nine?
Okay so, maybe it's not that America's Ass (which you'd probably prefer), but Marvel swag is always great. And free Marvel swag? Even better. Maybe I haven't seen all of the Marvel movies (and yes, that's a point of contention and yes, I definitely plan on catching up and live tweeting while I watch them), but I want you to enter The Geekiary's America's Ass Giveaway because I want you to be free to be as extra as possible at your next get together or convention. Flex on your friends by opening your American beer (or cider, whatever you prefer) with your Captain America bottle opener, or sealing your American wine with your Captain America bottle stopper. How many more times can I say America? A lot, but I'll spare you.
The rules for this giveaway contest are pretty simple!
1. Details: America's Ass giveaway begins on Friday, September 13 at 12:00:01 EST and ends on Friday, September 20 at 11:59:59 EST.
2. Eligibility: The giveaway is open to anybody 13 years of age or older with a physical address capable of receiving mail. You MUST be following The Geekiary Twitter account by the end of the contest.
3. How to Enter the Giveaway: Following the prompts on the above Rafflecopter, there are five (5) total ways to enter. Each item on the Rafflecopter gives one (1) entry in the contest. (1) Follow @TheGeekiary Twitter account using your personal Twitter account, contest or giveaway accounts will not be counted as entries. (2) Tweet BOTH the link to this post and the hashtag #AmericasAssGiveawayGeekiary. (This can be done once per day.) (3) Follow @TheGeekiary on Instagram. (4) "Like" The Geekiary on Facebook. (5) Subscribe to The Geekiary on YouTube.
4. Winner Selection: On or around Friday September 20, one (1) winner will be randomly selected from all eligible entries. Odds of winning depend on the total number of eligible entries received. We will make two (2) attempts to contact said winner via Twitter direct message or email. Potential winner must respond within two (2) business days of the initial notification, or an alternate potential winner may be selected from the remaining eligible entries.
5. Prize: Prize is a Marvel Avengers Captain America bottle stopper and bottle cap opener. And maybe some stickers.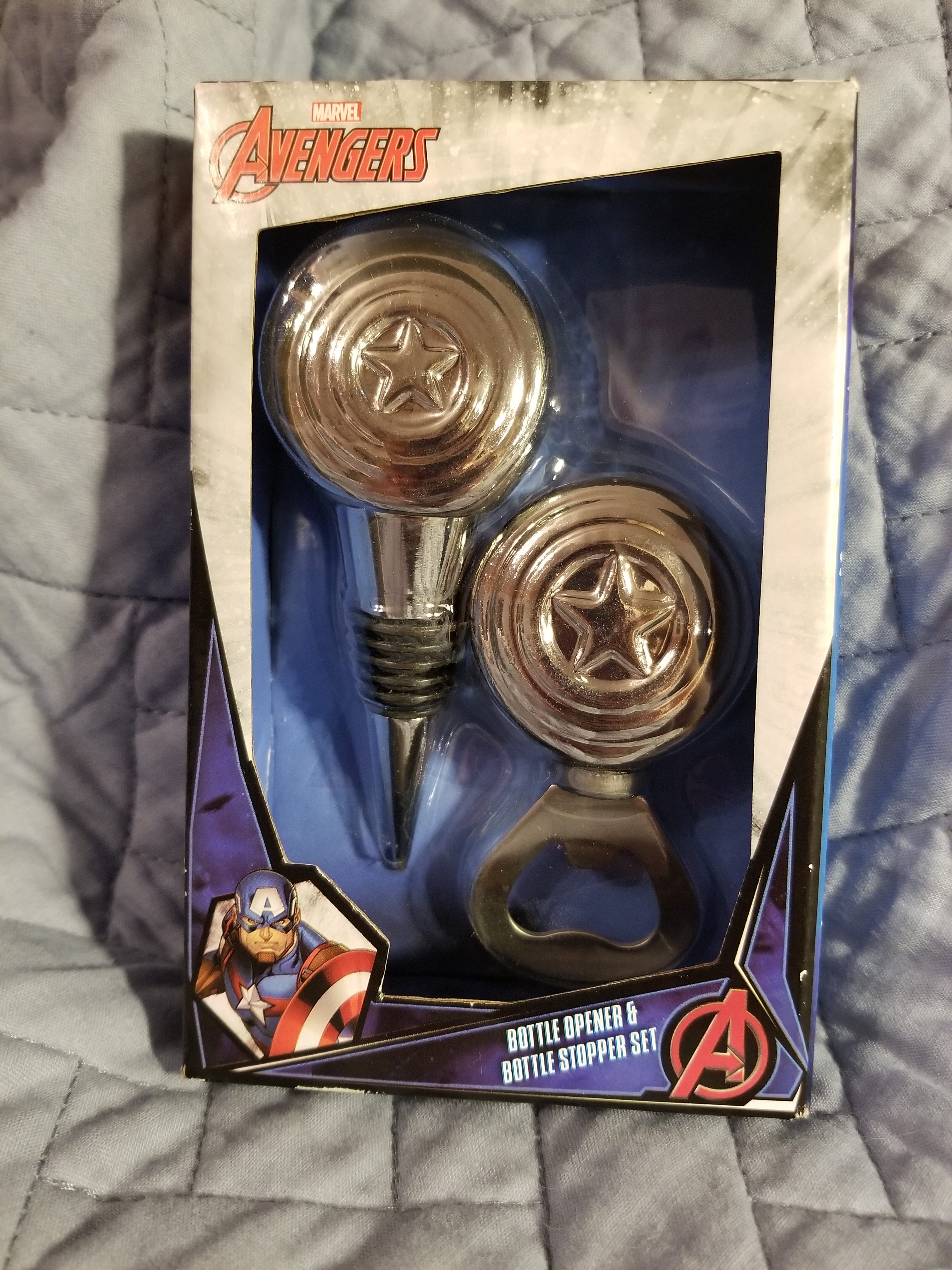 Give us your beers, your ciders,
Your bottled masses yearning to be poured,
The open wine bottles, uncorked,
Send these, the unopened alcohol to us,
We will send America's Ass to your front door.
Author:
Bekah
GeekiaryIconBekah has a B.F.A. in Theatre Performance from Anderson University and is the Executive Assistant at Saga Event Planning. She is a frequent convention attendee and cosplayer. As an editor she helps review pieces before publication and keep up the quality of our content. Bekah covers various fandoms including The Hunger Games series, American Gods, Harry Potter, The 100, and others.
Read our before commenting.
Please do not copy our content in whole to other websites. Linkbacks are encouraged.