Claws 2×3 Review: Russian Navy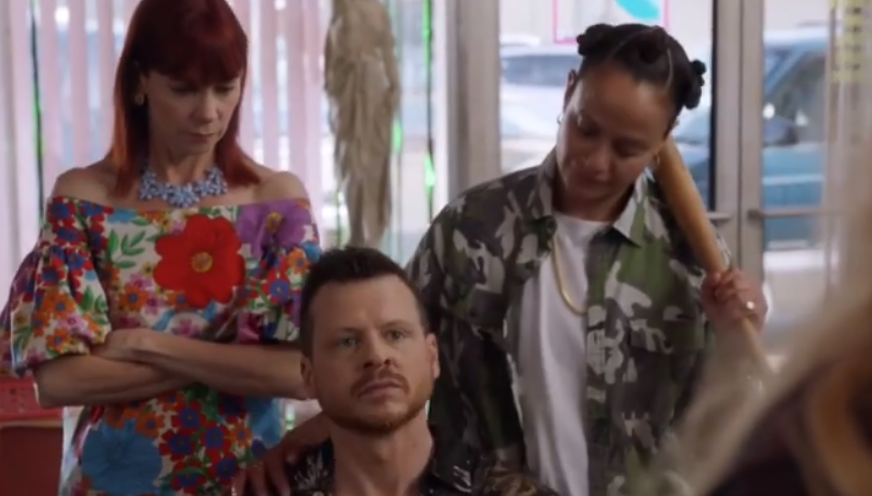 This week's episode of Claws season 2 showed Desna learning how to make some power moves in her relationship. 'Russian Navy' also had one of the most hilarious scenes I have seen on TV in a very long time.
I was provided a screener of 'Russian Navy' for review. The opinions are my own.
'Russian Navy' opened up with a black-and-white dream sequence involving Desna, Gregory Ruval, and their many children. It was a comedic scene that took a very gory turn as it continued. Desna should really think about why she had such a dream in the first place. Also, the episode didn't waste any time letting us know that things were going to become intimate between Bryce and his mother-in-law if Jenn hadn't entered the room.
I get that both Bryce and Jenn's mother were drunk, but the entire thing felt like an unnecessary layer of drama forced upon an already strained relationship. How long are we supposed to sit through the 'will-they-or-won't-they-get-back-together' debacle? Yes, relationships can be messy. However, I want the two to move on already so the show can focus on other things.
Having said that, Bryce and Jenn's marriage troubles did give us one of the most hilarious scenes on television. How many of us would like to have a formal debate, complete with a mediator, when working through our issues? The entire thing was an awesome way to break the fourth wall in a manner which also worked for Claws.
How many of us could use a mediator when arguing with bae? #ClawsTNT pic.twitter.com/LUwg6W7Eqg

— Claws (@ClawsTNT) June 25, 2018
Talking about relationships, Desna and Gregory took the next step in theirs when he introduced her to his mother. Gregory is such a mama's boy! Also, does his mother know he is a Haitian mob boss? It would be awesome if his mother is revealed to be the HBIC and that's why Gregory does whatever she says.
Zlata and Uncle Daddy also worked on their relationship in 'Russian Navy.' There is a limit on how many times Zlata allows someone to disrespect her and Uncle Daddy moved way past it. I am looking forward to seeing how the two battle it out because he is not going to work for her.
Some thoughts and questions:
Do you think Virginia will be able to adapt to Dean's meticulous household organization needs?
We got another hint about Quiet Ann still feeling hurt after breaking up with her girlfriend. I want her to be happy!
I wonder what's going to happen between Polly and Marnie.
Is Bryce going to divorce Jenn?
What did you think of 'Russian Navy'? Are you enjoying Claws season 2? Let us know.
Author:
Farid-ul-Haq
Farid has a Double Masters in Psychology and Biotechnology as well as an M.Phil in Molecular Genetics. He is the author of numerous books including Missing in Somerville, and The Game Master of Somerville. He gives us insight into comics, books, TV shows, anime/manga, video games, and movies.

-


Read our before commenting.
Do not copy our content in whole to other websites. Linkbacks are encouraged.
Copyright © The Geekiary