Empty Orchestra: The Songs of Dean Winchester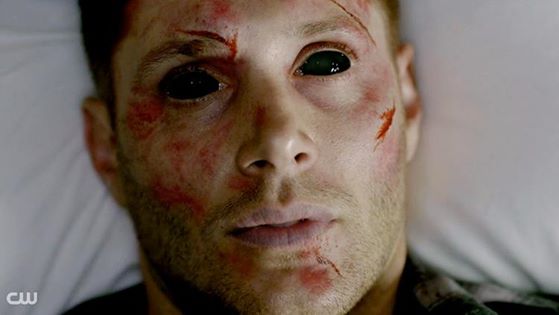 With all of the Supernatural spoilers and news from San Diego Comic-Con (SDCC), demon-Dean-Winchester seems to be grabbing people's attention. The sizzle reel, which showed a few clips of the third episode of the 10th season, clearly showed how much the character has changed.
His favourite songs used to be a tie between Led Zeppelin's "Ramble On" and "Traveling Riverside Blues", both steeped in a fair amount of meta-analysis related to his character, but what's demon-Dean's theme song now?
From what actor Jensen Ackles (Dean) revealed to the staff at the Geekiary at SDCC:
"Oh, I can't tell you that because there might be some karaoking involved. I don't want to ruin the surprise. […] The song that he picks to karaoke are songs that he knows will piss the crowd off because he doesn't care, and if they don't like it, even more reason to sing. And that's kind of the theme of demon-Dean. He's so careless, and he's just so… he does not care about what people think or what people want or… at one point the bouncer comes up and says 'hey, buddy, enough with the bad tunes'. And he [Dean] beats the crap out of him, and picks the mic back up. And [it's not 'Brandy, You're a Fine Girl' by Looking Glass], it's worse."
Music has always been a huge part of Supernatural, and each song or musical reference has been chosen with care. It has been that way since the beginning with show creator, Eric Kripke. When it was revealed at the SDCC Supernatural panel on Sunday that Dean would be doing karaoke, this news, on top of the previously revealed 200th musical-ish episode, has brought some interesting thoughts to mind. When have we seen Dean sing previously? And what were the implications and/or meanings behind those songs?
In addition to more prominent vocals, I'm also going to include a couple of his more "rocking out" moments, and are skipping Sam and Dean's duet of "Silent Night" from 3×08: "A Very Supernatural Christmas". There are seven moments that seem to stand out in regard to Dean and his musical selection.
"Fire of Unknown Origin" by Blue Öyster Cult in 1×17 "Hell House" 
This song arrives early in the series, in which Dean is simply pranking (albeit, a pretty lame one) his brother, Sam and drums on the steering wheel to wake him up. This song is pretty self explanatory, and goes alone with the theme of the episode, where there are unexplained deaths from the use of a tulpa. It speaks more to the episode than Dean, but it d0es provide the background that there is still stuff he did not know at this point in relation to hunting.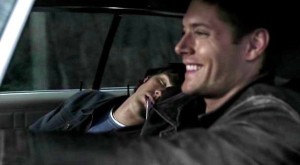 "Can't Fight This Feeling" by REO Speedwagon in 2×05 "Simon Said" 
This moment has been part of a lot of fandom discussion, as it's a big change in Dean in regard to his emotions and attitude to women: in this case, his growing attachment to the (now deceased) Jo Harvelle. Though that possibility was cut short (due to hellhounds), it shows a little bit of emotional growth.

"Dead or Alive" by Bon Jovi in 3×16 "No Rest for the Wicked"
Possibly one of the most heart-wrenching scenes in Supernatural, Dean puts on a brave face for his brother and tries to make the last day he has on Earth not "socially awkward". Dean knows that despite his work as a hunter ("outlaw"), his chances to outrun the hellhounds on his trail is not possible. This song is emblematic of Dean Winchester, from the drinking, the steel horse (his Impala), not sleeping, loaded six string (in his case the arsenal in the trench and his pearl handled gun), and the knowledge that each hunt might be his last.

"Heat of the Moment" by Asia in 3×11 "Mystery Spot"
This is a song about enjoying things while you can, because they could be gone in a "moment". In the case of this episode, it's the repeated death of Dean and Sam's coping or non-coping with it. Dean turns it up and proudly lip syncs along while Sam proclaims, "if I ever hear it again, I'm going to kill myself". Not quite, Sammy, not quite…

 "Eye of the Tiger" by Survivor in 4×06 "Yellow Fever"
Played during one of the moments of Dean's imminent death (this time thanks to ghost sickness), the song provides us with a scared and frantic scene of him in the Impala. As the illness plays on his fears in the episode, the song is about not giving up and trying despite the odds. Therefore it is about overcoming the odds and defeating your demons, or in this case, a pissed off ghost. There's also a great outtake of Jensen Ackles really getting into the song, as well.

 "All Out of Love" by Air Supply 7×16 "Slash Fiction"
The song itself is about unrequited love and the object of their affection being missing, it therefore could be Dean referring to the loss of his car as "Baby is on lock down", thanks to Leviathan Sam and Dean, or the more widely speculated (considering the episode title), loss of Castiel, who was absent most of the season. Dean tries to hide his singing from Sam, who feels quite uncomfortable witnessing it, which may also point towards the latter, though just the emotion Dean is emanating or the song choice itself could be another valid reason.

So, what does this mean for demon-Dean and his karaoke choice?
As there has been a lot of songs used in the series (upwards of 300 by my count), and very few get reused more than once, there are a few possibilities. If we stick with the theme of classic rock choices, as I don't believe that preference of Dean would change, it narrows it down slightly. I've tried to keep in mind somewhat well known hits from the 70s and 80s.
Demon-Dean is, according to Ackles,"the guy at the party and doesn't want the party to be over and he keeps drinking and making an ass of himself, but he doesn't care and all of his friends have left and he doesn't care that the music has died." Additionally, demon-Dean is a lighter side of the character (rather than a darker or comedic side) due to the events, guilt, and responsibility of last season being lifted and is more carefree, creepy, and scary.
Though Ackles said the karaoke choice was something worse than "Brandy (You're A Fine Girl)", I would like to think that there would still be some correlation with the theme of demon-Dean, the episode, and the song's meaning. Therefore, I've come up with quite a few possibilities…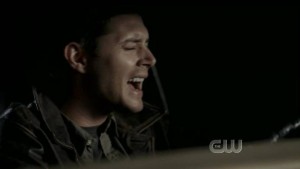 The first song that comes to mind is Van Halen's "Runnin' With the Devil", and for fairly obvious reasons, which I shouldn't have to explain. The Rolling Stones provide a plethora of song choices, which include "Soul Survivor", "(I Can't Get No) Satisfaction", "Paint It Black", "Sympathy for the Devil", and "Street Fighting Man". Each song has its own meaning, though each could probably be equated to demon-Dean in some fashion. Pink Floyd's "Comfortably Numb", which is essentially a song of burning out and the ability of not knowing what is the real world versus one created through a haze of drugs, which could match the demon pull of the Mark of Cain.
Though it'd be funny to hear Dean Winchester stumble through the French lyrics of "Psycho Killer" by the Talking Heads,"Road to Nowhere" might be a bit more apt as Demon Dean has no obligations and nothing to care about or keeping him tied down. Both "Welcome to the Jungle" and "Paradise City" by Guns N' Roses could be interesting choices, as the former is about life in a city with so much debauched opportunity, and the latter about the nostalgia of home. Though I'm not quite sure demon-Dean cares too much about home anymore.
The first thing that comes to mind is Twisted Sister's "We're Not Gonna Take It". Though this 80s classic brings up thoughts of Jason Gedrick and "Iron Eagle", the song itself is all about rebellion and angst. It is the kind of letting go that we might expect from demon-Dean, minus the glam rock hair and make up. I'd kill to see him sing Elton John's "Tiny Dancer" but I couldn't even fathom how that meaning would fit. It'd just be funny. While equally hilarious would be the Bee Gees's immortal classic "Stayin' Alive", though that seems to hit the nail on the head a little more directly in regard to Dean and his knack for dying and coming back to life; especially now since he's resurrected by the Mark of Cain.
Lou Reed's "Walk on the Wild Side" should be another apt choice in Dean's shunning of responsibility and care, as it's essentially an ode to hedonism. Though slightly more towards the sexy side rather than just letting go fully towards everything, "Need You Tonight" by INXS is a good contender. There are two David Bowie songs that might fit, which are ironic uses of "Heroes" and "Rebel Rebel", the latter having undertones of bisexuality dripping from its lyrics, which might also be an interesting choice. Though, again, this leads to a whole other conversation in regard to Dean, as well the lack of inhibitions that are possible for demon-Dean.
If we delve into recurring meta, "Hounds of Love" by Kate Bush could be quite fitting, as we've seen the continual relation between dogs and Dean Winchester since the inception of the series. Though, this song tends to be about love and passion, rather than being ripped apart… then again, sometimes those are one and the same. Bruce Springsteen's "Darkness on the Edge of Town" is a good possibility, though it's not as well known as some other songs, and a search for something other than a normal "apple pie" life.
APPLICABLE BUT PROBABLY NOT CHOICES:
The 1973 song "Personality Crisis" by the New York Dolls could be interesting, as it is loud noisy nihilism at it's most pure. I could see people not enjoying that as a karaoke choice. That is a bit more punk than rock, though. Similarly, The Pixies "Where is My Mind?" might be a bit too self-analytical for demon-Dean, as well as not the best karaoke song. Patti Smith's "Because the Night" is a bit more angst than Demon Dean might possess, since he seems not to care as much, so I'd probably call that a no-go. I would say the same for Johnny Cash's Nine Inch Nails cover of "Hurt". Interestingly enough, there is mention of Led Zeppelin in the series (as mentioned above regarding Dean's favourite songs), but no actually music has been used so far. This might be a great opportunity to do so. So Dean could in fact finally sing "Ramble On" or "Travelling Riverside Blues", though the licensing costs are probably too high. Then again, those were songs that were emblematic of old human-Dean, and since that Dean is for all intended purposes no more, neither might apply. Two quite obscure choices might also be Metallica's "Master of Puppets" and "The Killing Moon" by Echo & The Bunneymen.
Ultimately, we won't know for sure until October what demon-Dean's karaoke choices would be. Until then, there is just speculation. What are your thoughts regarding his song selection?

-


Read our before commenting.
Do not copy our content in whole to other websites. Linkbacks are encouraged.
Copyright © The Geekiary