The Hillywood Show Swag Giveaway!

We love The Hillywood Show at The Geekiary. Not only are they amazing, creative women, but we still can't get their version of "Shake It Off" out of our heads. We were lucky enough to meet up with them at C2E2 and got some excellent swag that we want to give away!
The winner will receive an awesome tee with the below design (size unisex large) and autographed glossy photo.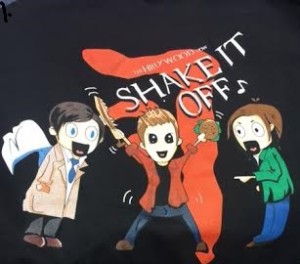 To enter, check out the following Rafflecopter options.  Shipping is within the United States or Canada only. Giveaway ends April 3, 2016 at midnight EDT.
Author:
Erin
Erin reviews iZombie, and many many movies (especially horror!). She has a keen eye for on-screen chemistry, and loves to tackle the subject of casting. She is also our horror aficionado. She live tweets shows, and loves to share her feelings. Erin has a BA in History, and likes to analyze the lore behind historical fiction and horror. She attends San Diego Comic Con every year and has also attended C2E2 and WonderCon.
Read our before commenting.
Please do not copy our content in whole to other websites. Linkbacks are encouraged.