"Resident Evil 8: Village" Collector's Edition Offers a Queer Figure of Chris Redfield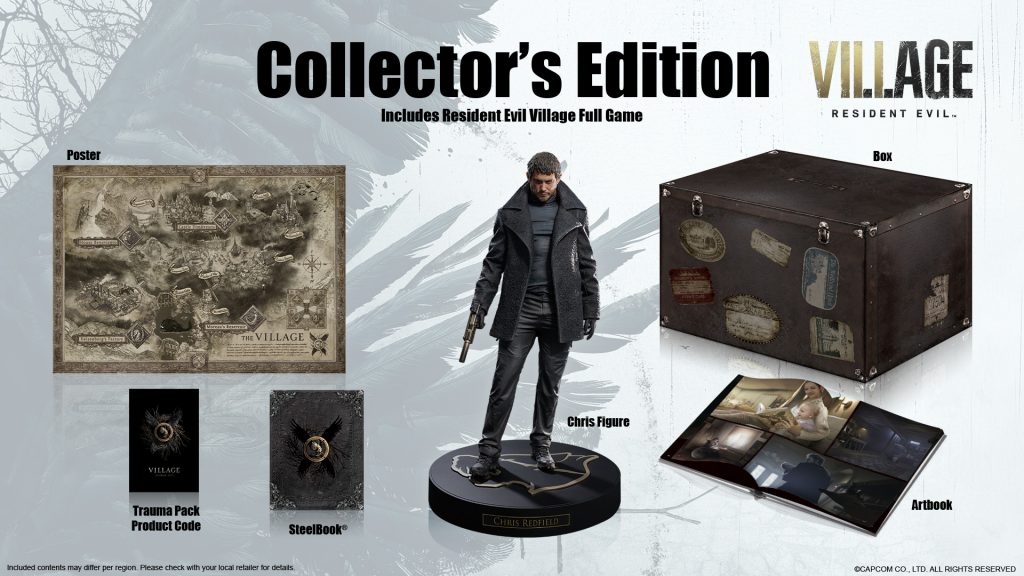 With the May 7, 2021, release date confirmed for Resident Evil 8: Village, fans can go ahead and pre-order different versions of the game. You too can be the proud owner of a Chris Redfield figure highlighting the iconic character in all his queer glory!
Resident Evil 8, stylized as Resident Evil Village (because the numeral 'VII' is in the word 'Village'. Get it?), will be available to play on the PS4, PS5, Xbox One, Xbox Series X|S, and the PC. Take note; if you buy the PS4 or the Xbox One version, you will be able to get the next-gen upgrade for free within the console family.
Of course, I will be getting the PC copy and trying it out. I love me some Chris Redfield, even though the majority of the game will likely be from Ethan Winter's perspective. Apparently, the story has to do with Ethan making his way to a creepy castle to rescue his baby daughter. And Chris might have killed his wife? Meh!
If I'm lucky, Resident Evil 8 will be the last installment with Ethan as the main playable character. Capcom needs to stop trying to make Ethan matter.
The gameplay mechanics have changed a bit. It will again be a first-person shooter, but there's a blocking mechanic in there. You will also be able to craft items. The inventory system is reminiscent of the highly popular Resident Evil 4.
A playable demo, called 'Maiden', is available for the PS5. A new demo is said to be released for other consoles.
As for the versions that you can pre-order, there's the Resident Evil Village – Standard Edition for $59.99. It will include the standard edition of the game and a pre-order bonus.
The Resident Evil Village – Deluxe Edition can be your for $69.99. You will get the main game and the following items (the Trauma Pack):
Mr. Everywhere
Safe Room Music
Found Footage RE7 Filter
Save Device
Albert01Chris
The Tragedy of Ethan Winters
Max Difficulty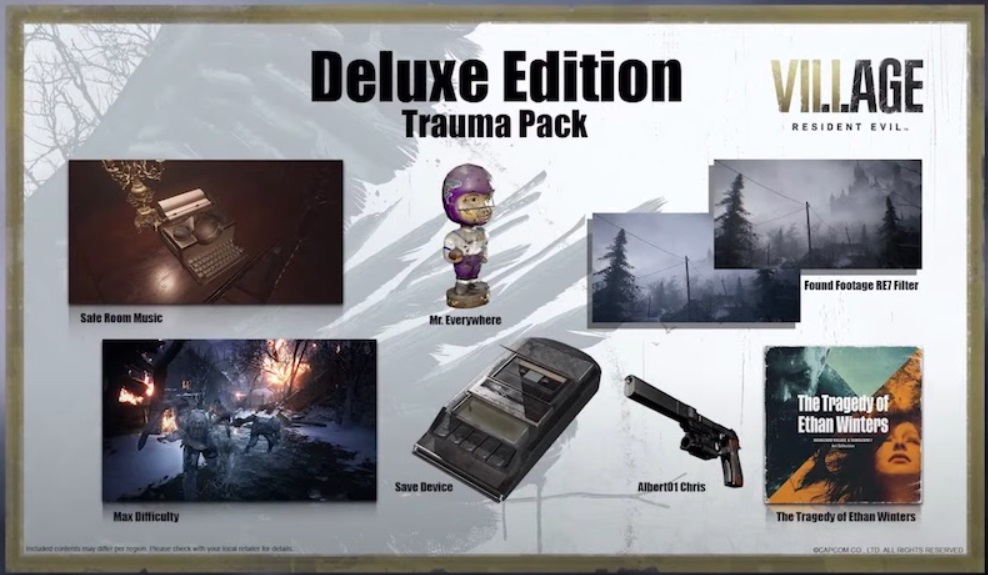 The Resident Evil Village – Collector's Edition for $219.99 is where it's at! You will the game, an Artbook, a poster, a box and steelbox case, the Trauma pack, and the pièce de résistance… a figure of the queer icon Chris Redfield.
Compared to the more action-centric pose that was featured in Jill Valentine's figure included in the release of the Resident Evil 3 remake, the latest Chris Redfield figure is… well, sorry, not sorry. But that's not a straight man!
You can give this pose to any woman in the Resident Evil game franchise and it will look nice on them, too.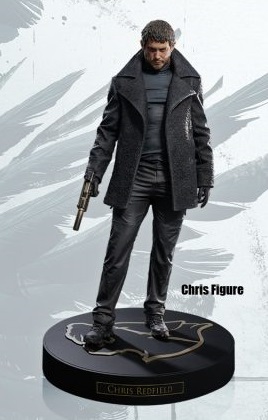 It's not the first time Capcom has shown how queer Chris can be. And I am here for whatever Capcom's doing.
Remember that Sailor outfit Capcom gave him?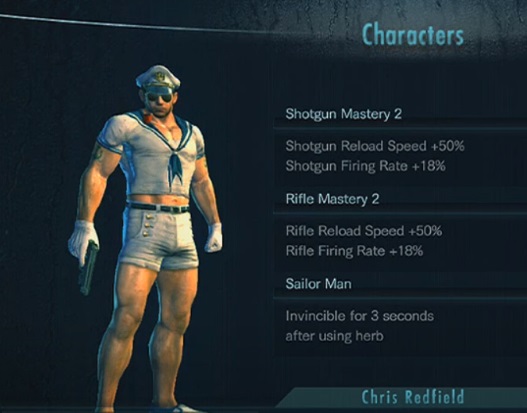 Will his upcoming narrative arc follow the sad-and-lonely-queer-man trope? We will find out soon enough.
Pre-ordering any version of Resident Evil 8: Village will get you these in-game items:
Mr. Racoon Weapon Charm
Survival Resource Pack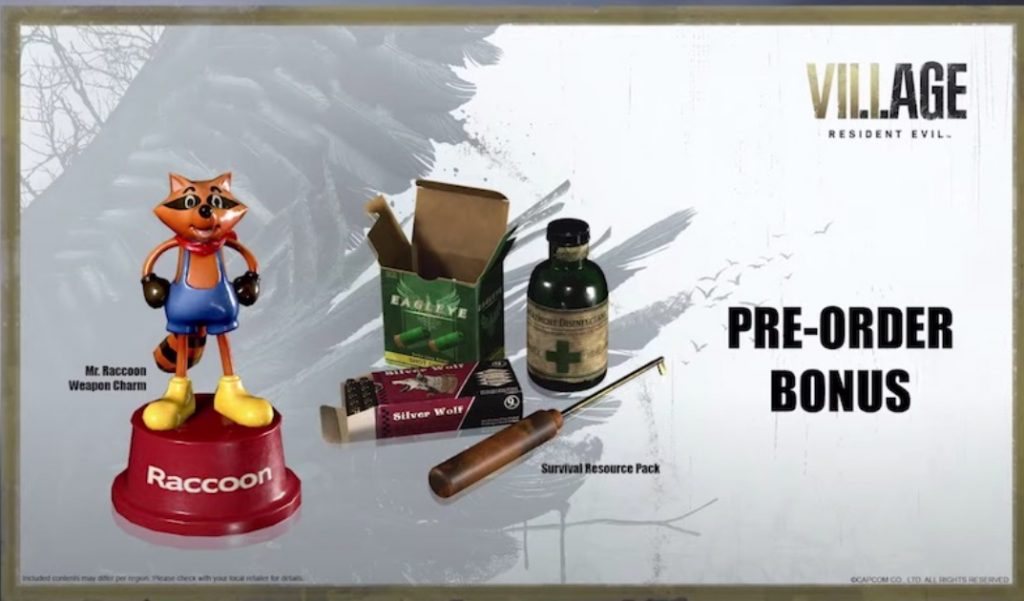 In celebration of Resident Evil's 25th anniversary, a new online multiplayer game, Resident Evil Re:Verse will also be released. Buying the main game (any version) will grant you access to this multiplayer title, too.
The year 2021 does seem ready to be amazing for fans of the Resident Evil franchise. Along with two new games (I don't have high hopes for Re:Verse), we can look forward to the Resident Evil: Infinite Darkness CG animated series on Netflix. The live-action reboot of the film franchise is scheduled to be released this year, too.
Are you excited about the eighth installment in the main Resident Evil games? I sure am!
Feel free to share your thoughts with us.
–
(via IGN & Capcom-Unity)
Author:
Farid-ul-Haq
Farid has a Double Masters in Psychology and Biotechnology as well as an M.Phil in Molecular Genetics. He is the author of numerous books including Missing in Somerville, and The Game Master of Somerville. He gives us insight into comics, books, TV shows, anime/manga, video games, and movies.

-


Read our before commenting.
Do not copy our content in whole to other websites. Linkbacks are encouraged.
Copyright © The Geekiary