The Most Important Object(s) In Pretty Much The Whole Universe: Greenlight Collectibles' Supernatural Replica Series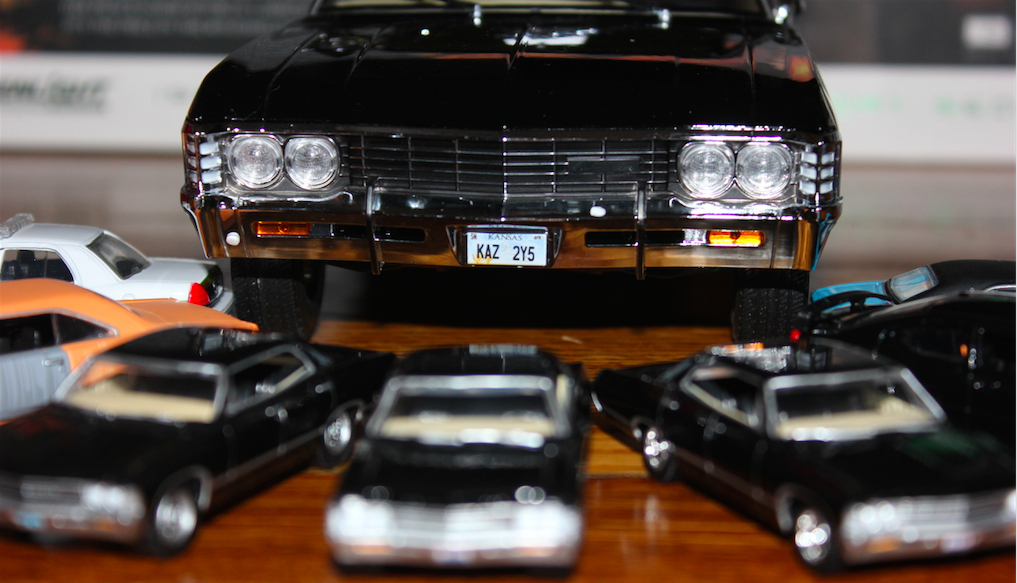 If you watch Supernatural, you know Baby. She's been the home of Sam and Dean Winchester for most of their lives. Probably the most beautiful speech ever (from "Swan Song") was devoted to her. She is the most important object in pretty much the whole universe. The folks at Greenlight Collectibles understand this. They have therefore given us not only Baby, but a whole host of intricately crafted models of the notable vehicles from the series.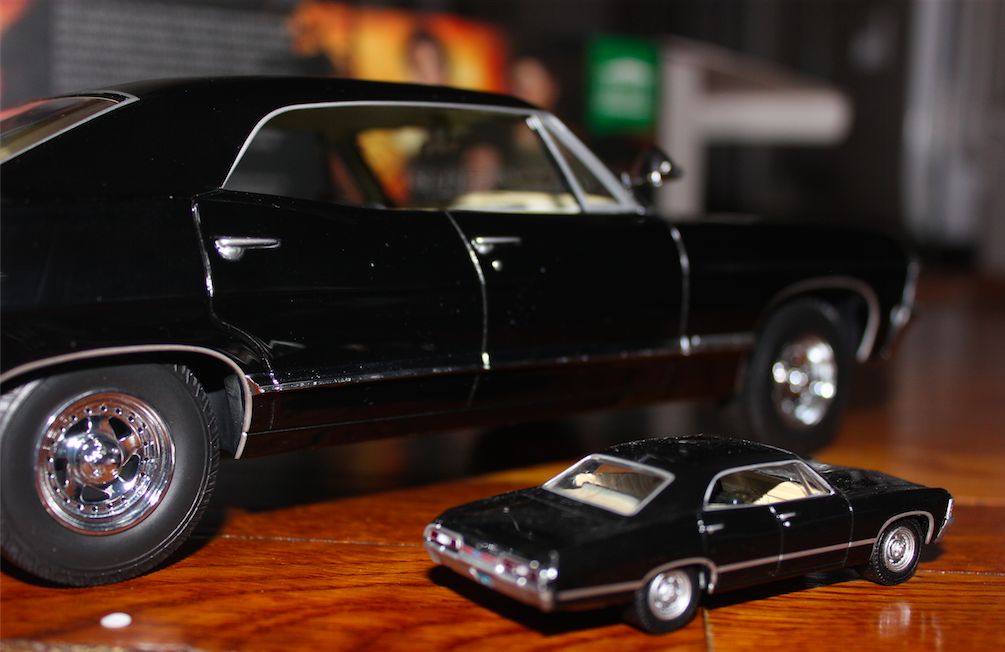 There are a total of 10 cars in the series that are currently available. First is the 1:18 Artisan Collection model of Baby (1967 Black 4-Door Chevy Impala – in case you've been living under a rock). Now I have always loved cars, and these models are breathtaking. Seriously, the attention to detail is absolutely amazing. This replica has the KAZ 2YS plates (used 2005-07), and very delicate headlamps (there's even a warning inside the box not to play with them). The wheels are really the only functional pieces, but honestly, I'm more floored by the craftsmanship. Even the interior is perfect (the one photograph I was able to manage does not do it justice). I was half-expecting there to be an army man crammed in the backseat ashtray and it to rattle because of jammed Legos in the vents.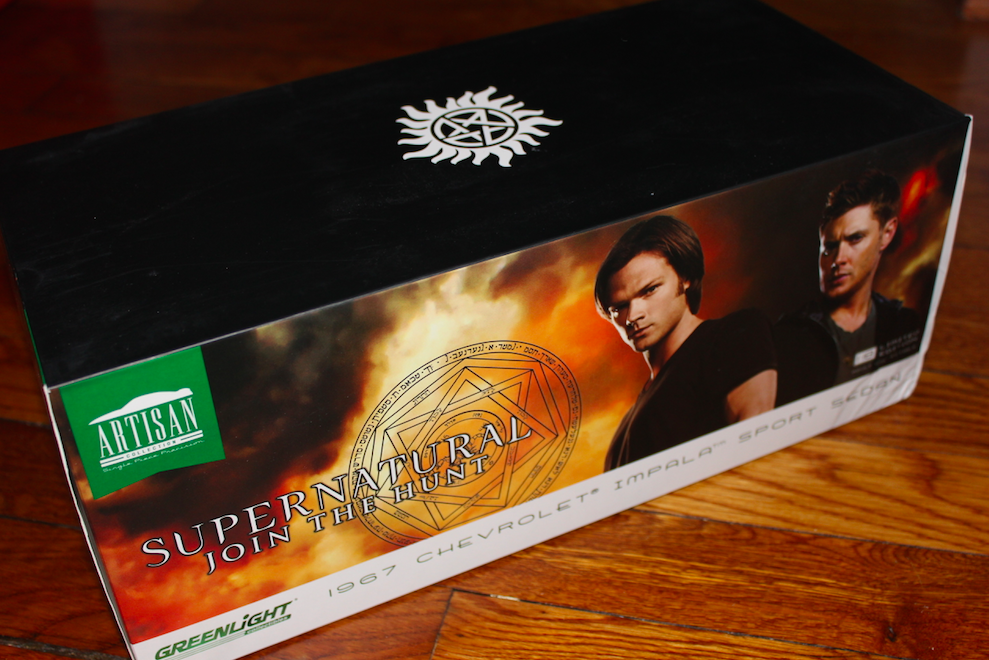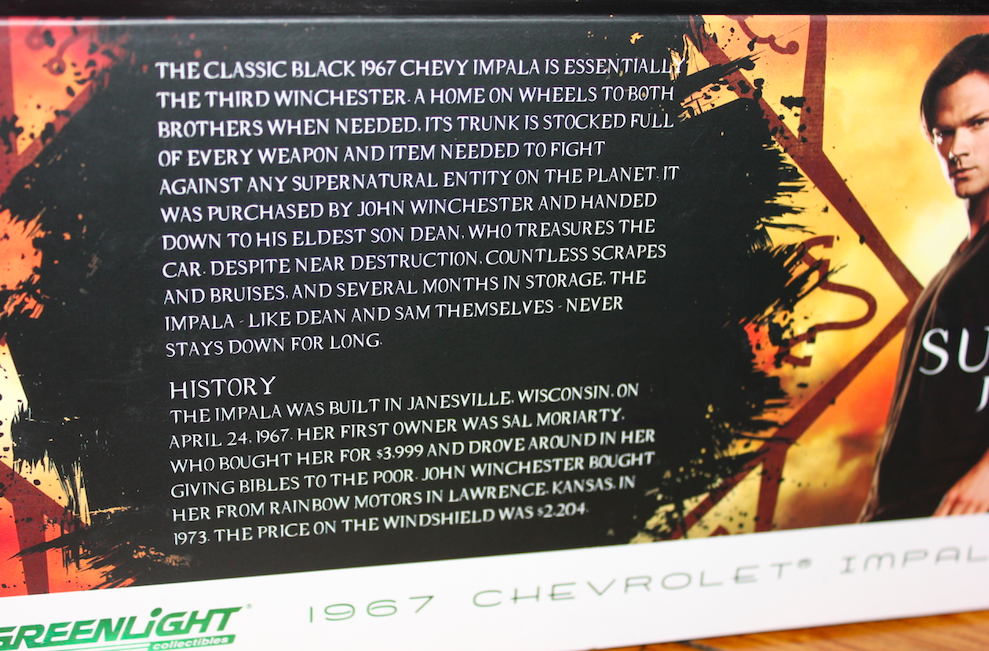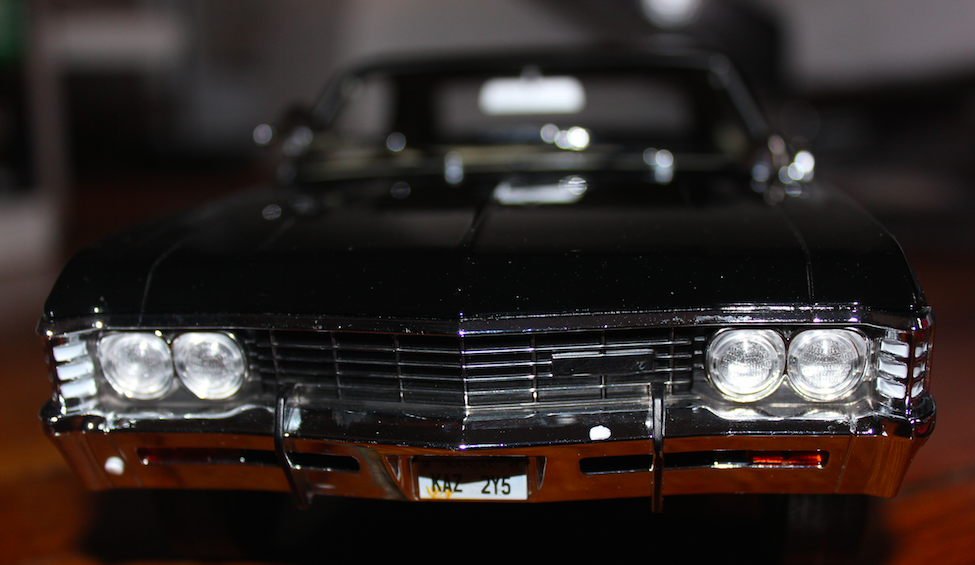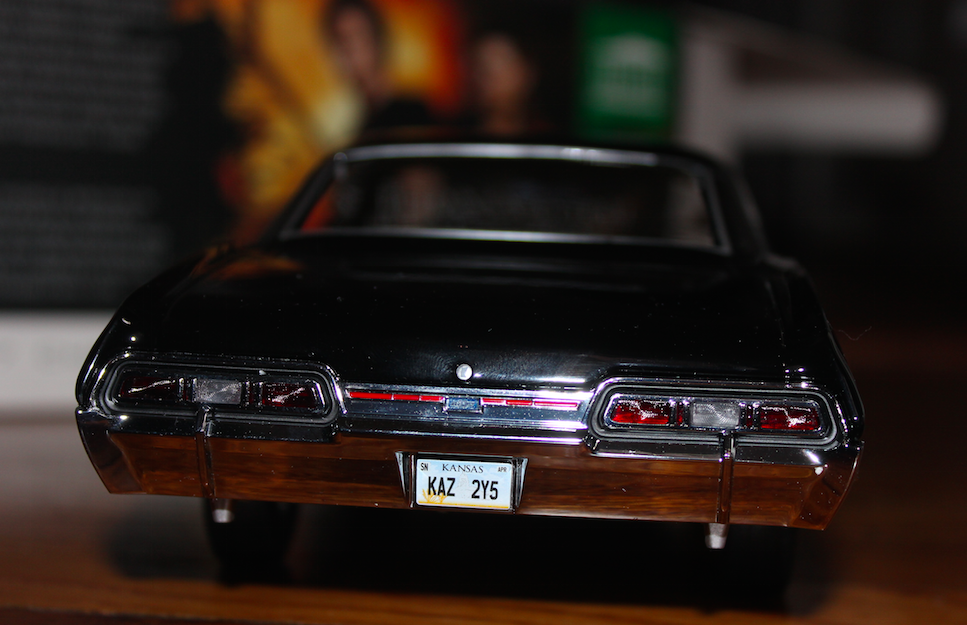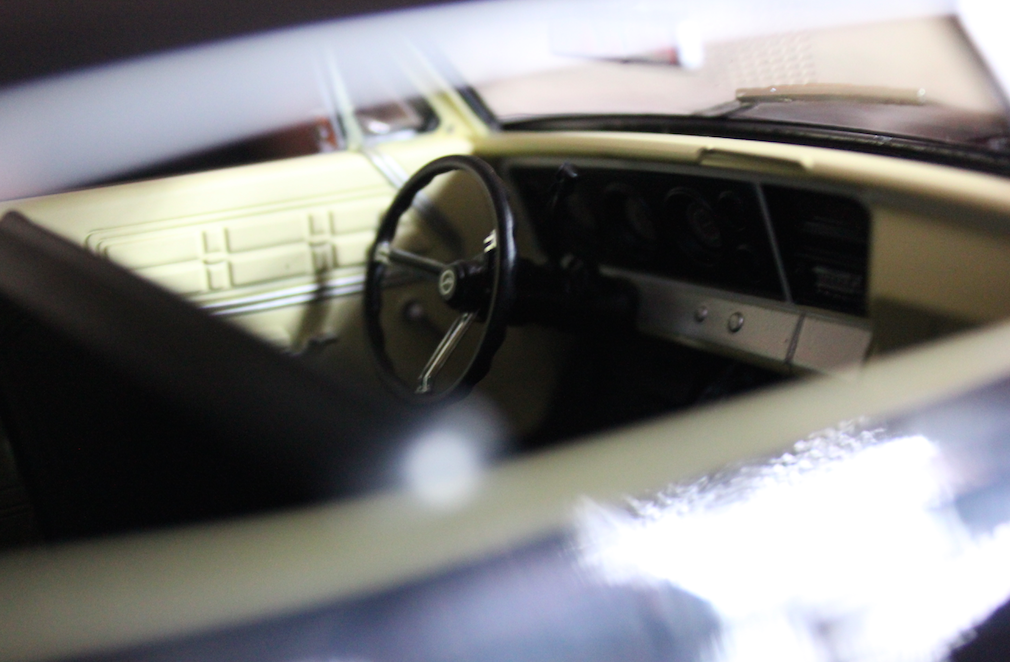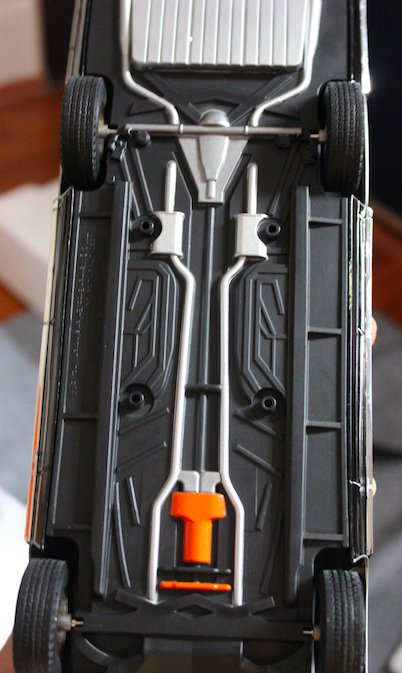 The rest of the cars are all 1:64 scale. The one that most people have probably seen for sale is the KAZ 2YS Kansas plates version of Baby. Again, even at that size the detail is spot on, or as much as it can be. I honestly think that they must have hired tiny elves or something to make this, because my fingers are certainly not that nimble. This car is in the Hollywood Series 6 Collection.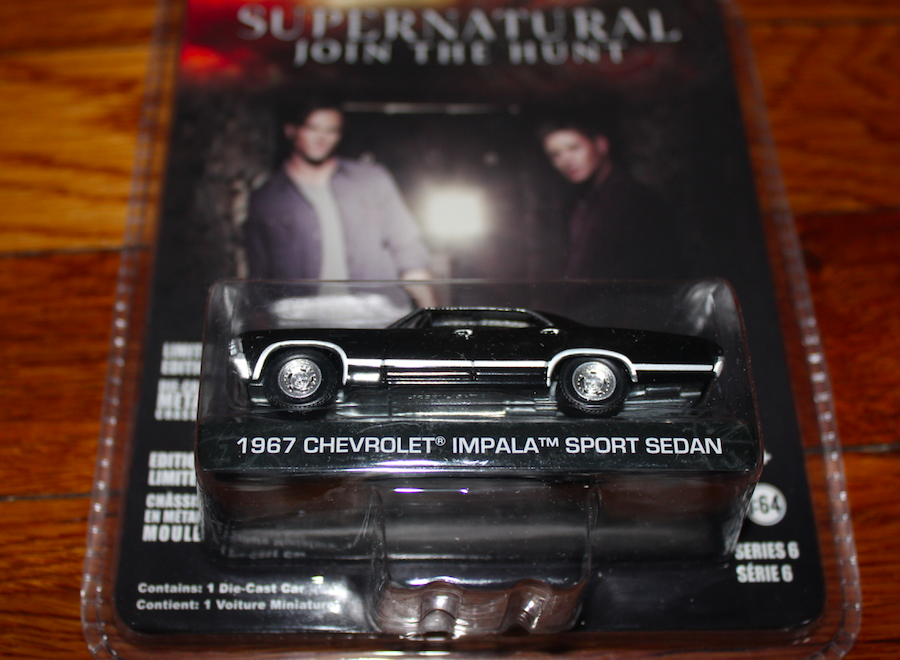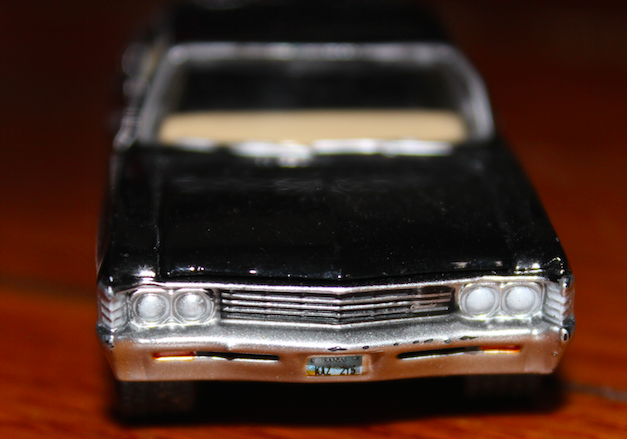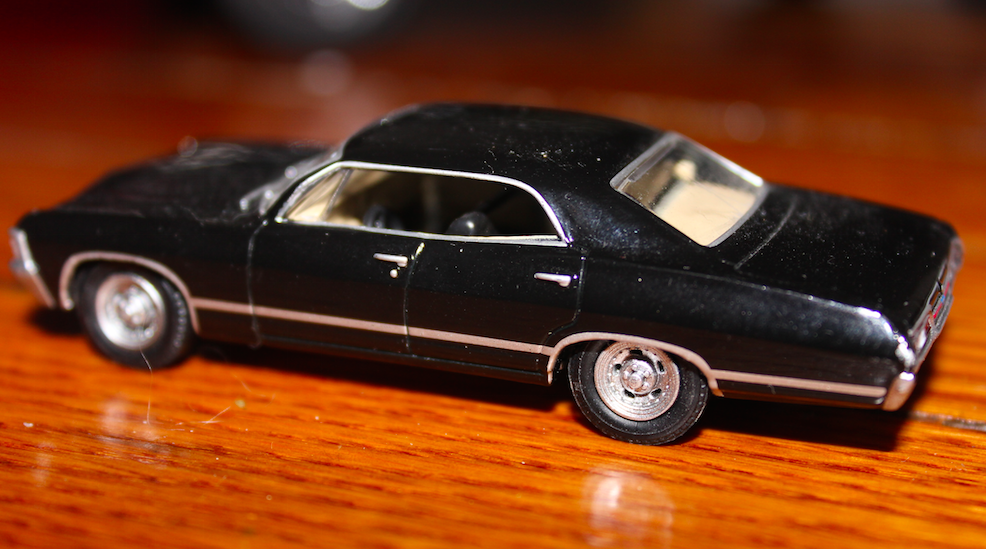 The Series 8 collection has the 1970 Dodge Challenger from 7×07 "The Mentalists" and the Ford Crown Victoria Police Interceptor which belongs to beloved Sioux Falls Sheriff Jody Mills.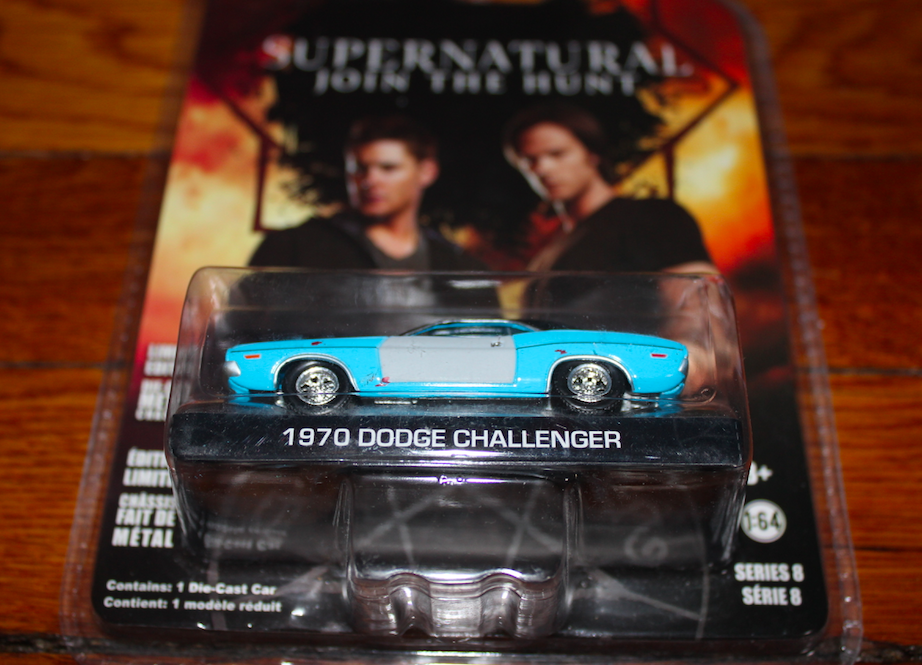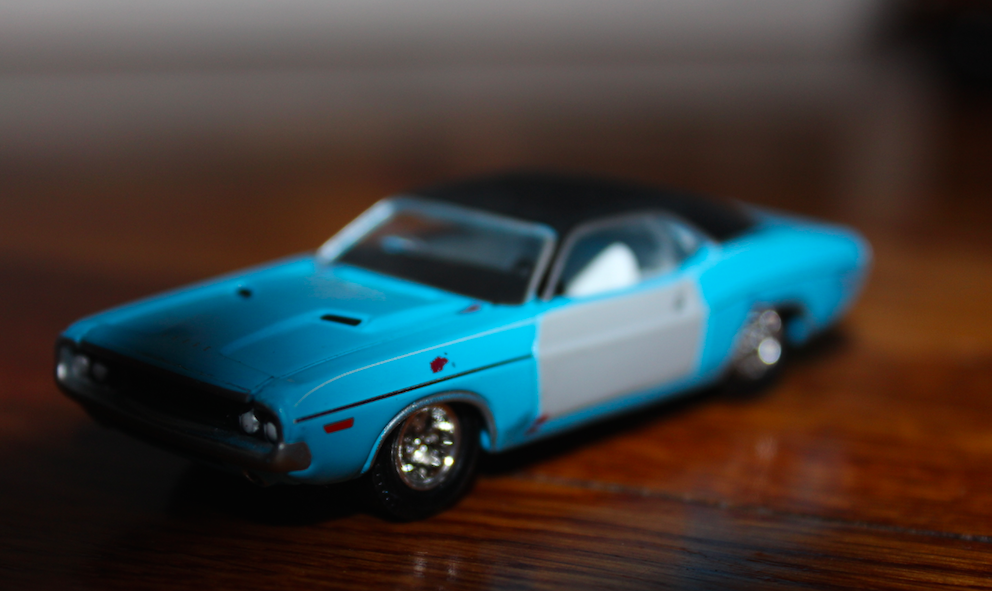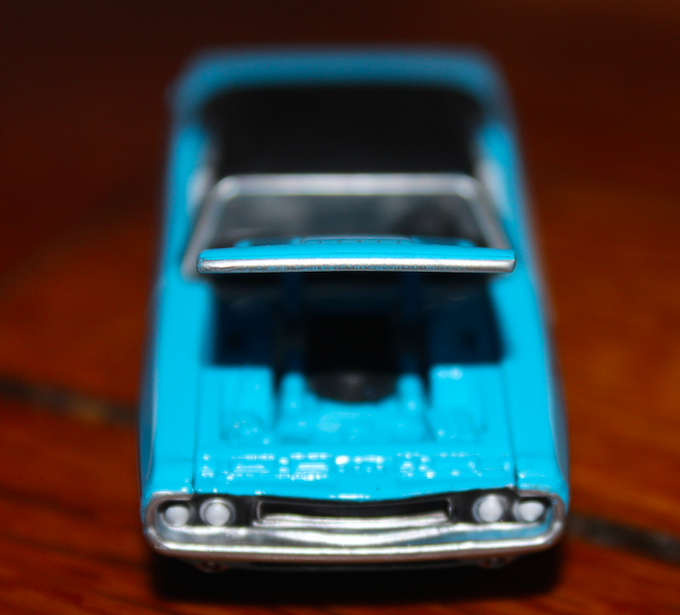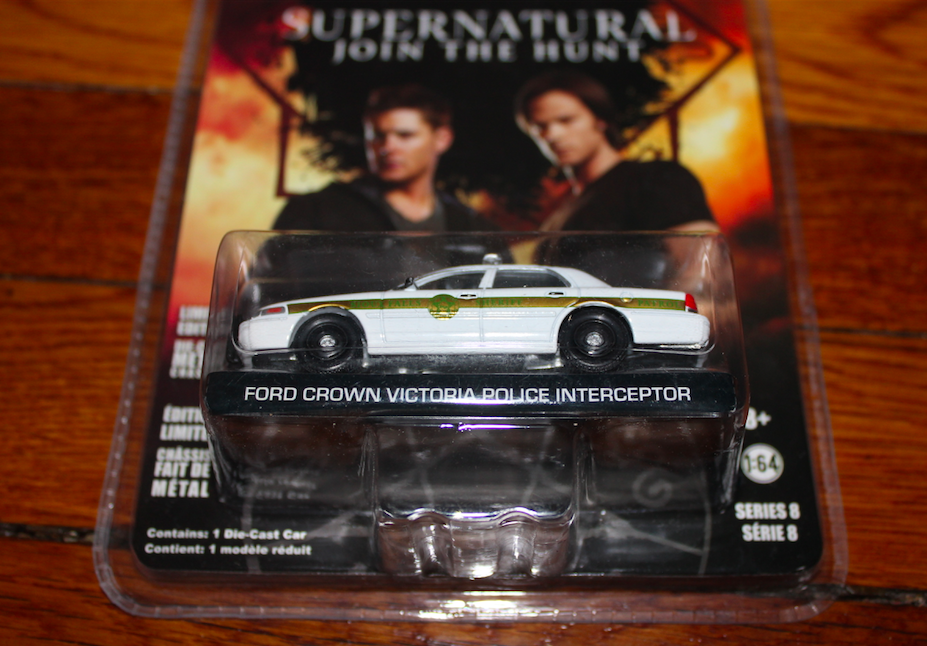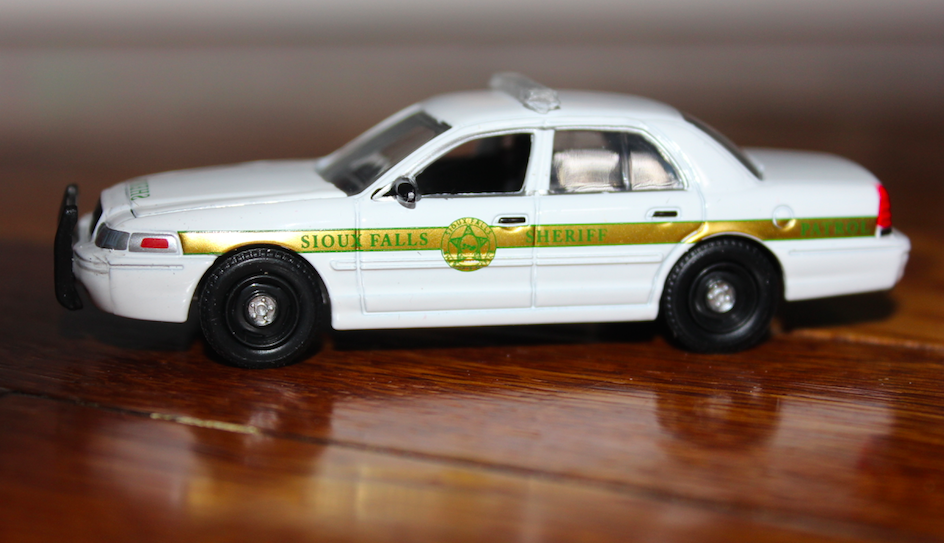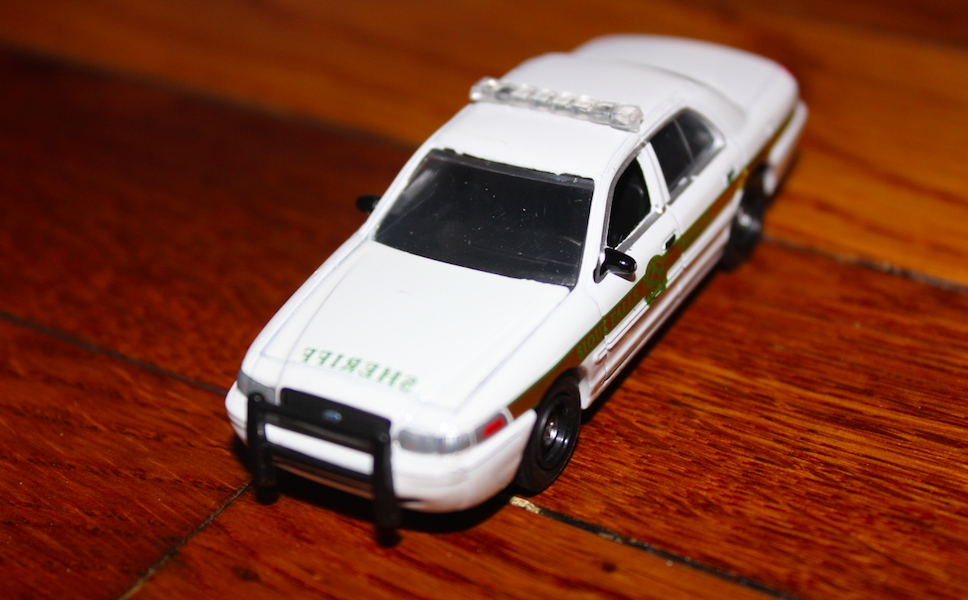 There is also the new Film Reel 4-Pack which contains four 1:64 replicas, including two more versions of Baby: one with the CNK 80Q3 Ohio plates (2007-Present) and the other being the Leviathan!Impala with the E62 3015 Illinois plates from Season 7 (sorry, I've personal issues with that season and one of the few redeeming qualities was seeing the various cars used by Sam and Dean – there are a few others, but that's a story for another time). The other two cars in the pack are the 1969 Plymouth Roadrunner used by Dean in 7×22 "There Will Be Blood" and Sam's "plastic piece of crap" from 6×01 "Exile on Main St.", the black 2006 SRT8 Dodge Charger. (Thanks for destroying that last car, Cas.) Anyway, the 4-pack comes in an old-style film reel canister, which is actually pretty sweet. I really appreciate the care that is put into these cars, as well as the packaging, as these are more works of art than anything.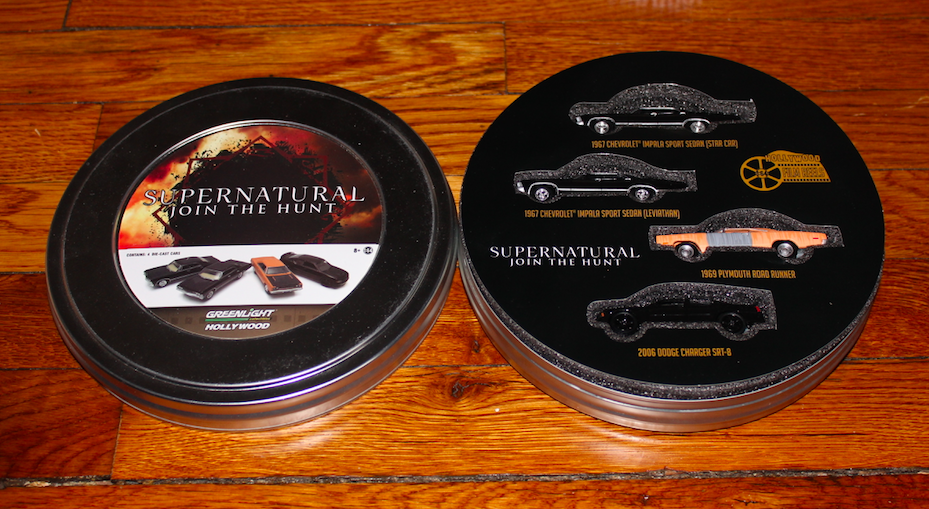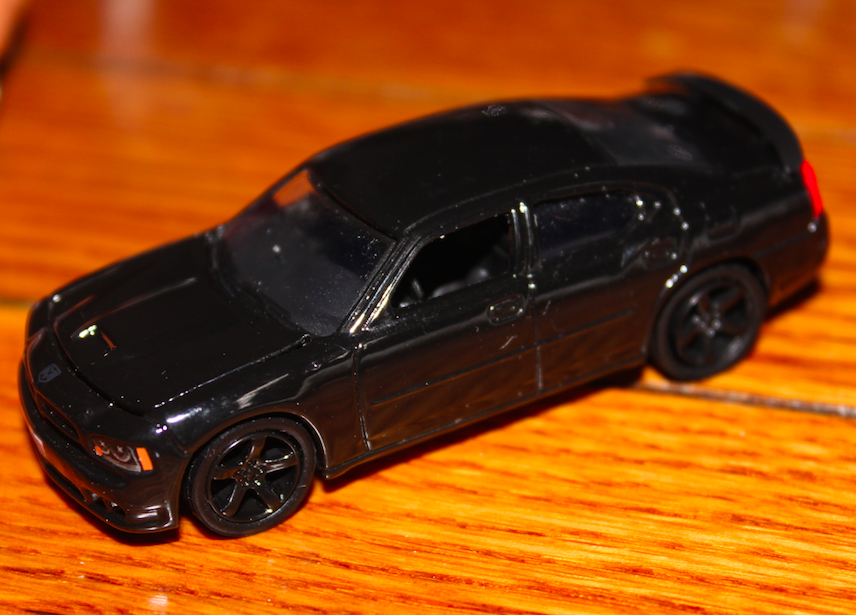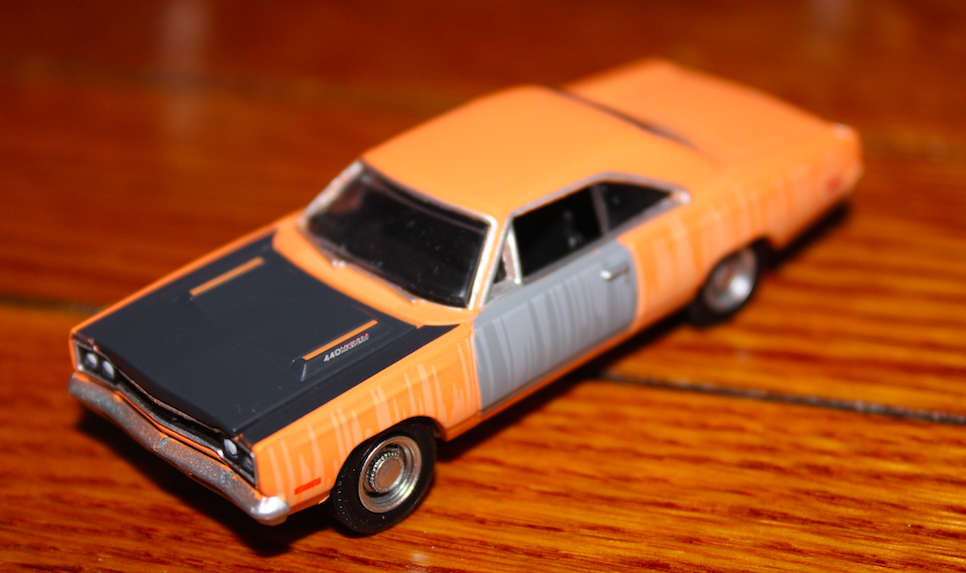 All of the 1:64 scale cars in the Supernatural series (minus the Sheriff's vehicle) have moving wheels and the bonnets pop-up so you can see tiny little engines. Seriously, they have elves or a shrink ray. The fact that they put this much detail into each car and design shows how much Greenlight Collectibles really prides itself. That is really commendable.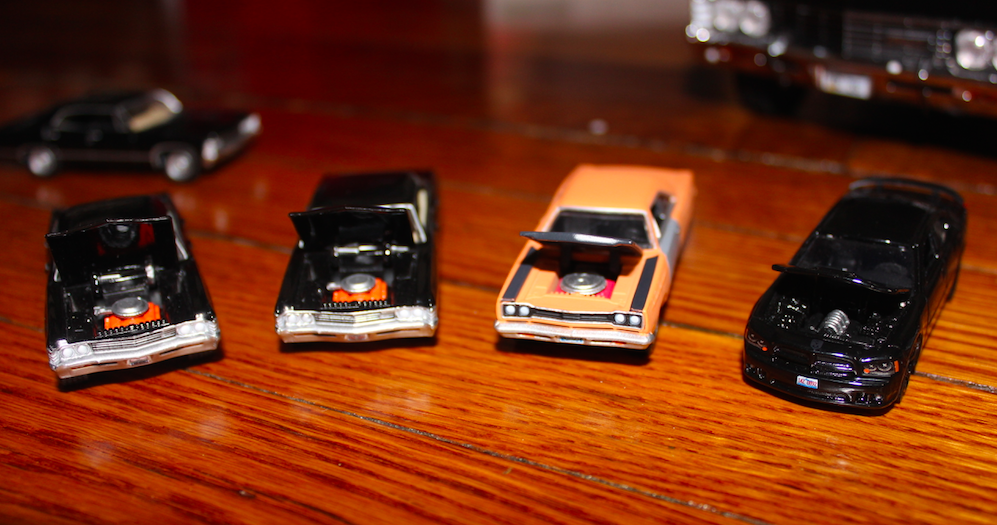 There are two other replica cars: Series 9 includes the 1970 Dodge Charger from 7×17 "The Born-Again Identity" and the Series 9 1967 Custom Ford Mustang from 6×17 "My Heart Will Go On". I unfortunately didn't get sent these cars to review, but I am sure that they are on par with the ones I did get. I'm waiting for the car elves to make Cas's Pimpmobile (1978 Lincoln Continental Mark V) and Bobby's truck (1968 Ford F-350). Though there are a host of other cars from Supernatural to also add to the list. And thanks to the wizards (yeah, I've gone from elves to wizards – sounds cooler) at Greenlight Collectables, I want the entire catalogue of cars from Supernatural now. I'll probably have to construct a replica Singer Salvage Yard to house them. Yeah, I'm definitely going to need a bigger flat for all of these.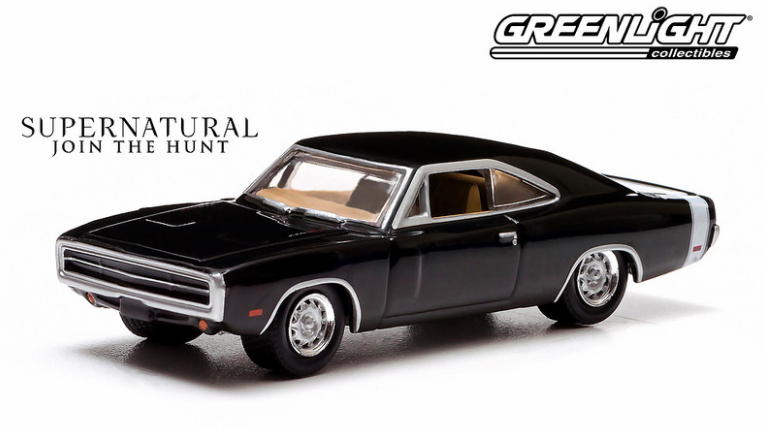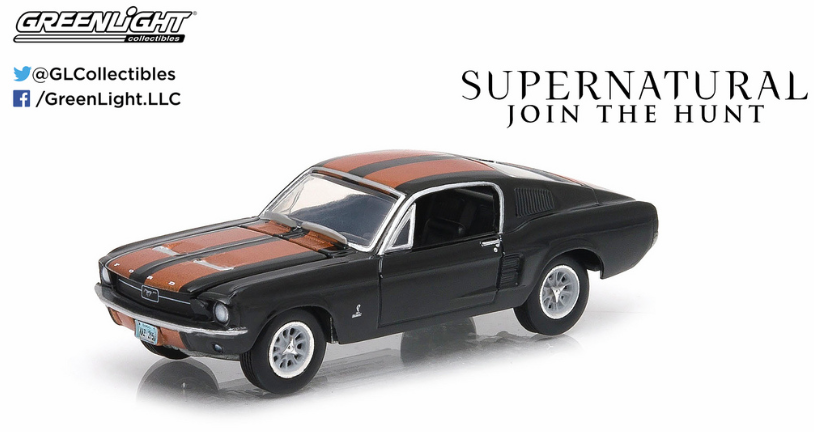 Ultimately, if you are a Supernatural fan, or even just love classic cars, you should definitely check out their stock. I'm definitely thinking of adding the 1:18 cars from Bullitt and Gone in 60 Seconds (aka Eleanor) to my collection. Now only if they were life sized…

-


*Read our before commenting.*

Please do not copy our content in whole to other websites. Linkbacks are encouraged.