The Walking Dead Video Game: Season One Review
There is a sort of common rule in the universe: game adaptations – or games based on popular movies, books or TV-series – are almost never as good as the originals. It happens not because video games are generally inferior; in fact, there are many examples where games introduce their stories or characters in a way more profound than any other media. The problem of adapting games comes from their clumsiness or half-readiness, which occurs because developers are required to create those games in a very short amount of time, in order to release them while their predecessors are still in the peak of popularity.
The Walking Dead video game was based on the comic-book series by Robert Kirkman; but it wasn't a full adaptation, as it didn't follow their story. The action was taking place in the same universe, but was focusing on absolutely different characters. At the same time, it came out during the second season of its namesake TV-show, which made me wonder if it was simply a way of making more money with a popular brand. That's why I didn't expect it to be anything short of terrible ౼ a quickly built first-person shooter with an engine appropriated from any number of other popular games, full of glitches and bugs.
But there is no rule without an exception. The Walking Dead video game turned out to be not merely a bright example of a well-known money making scheme, but a very original role-playing, puzzle-solving one. It had many strong, developed characters, and its well-written plot perfectly followed the atmosphere of the comic-books.
The Walking Dead game is a graphic adventure developed by the Telltale Games studio, and was released beginning in the end of April 2012 throughl November 2012. It became available for a number of platforms, including PC, Mac, PlayStation, X-Box and iOS. Half a year later, the game received a single DLC, '400 days', which took place after the events of the main plot.
The protagonist of the game is Lee Everett, a professor of history from the Georgia University who was convicted for the murder of the state senator who had an affair with his wife. The plot of the game begins with Lee being transported in the back seat of a police car. He is conversing with a cop, and they see a lot of commotion outside – but not being sure what it is about, they ignore it…until a mostly dead guy walks into the middle of the road. The officer tries to maneuver away from the walker and crashes the car, dying in the incident, and Lee finds himself alone in the woods, surrounded by several of the undead with nothing to protect himself but the shotgun he picked up from the dead police officer, which has just a single round of ammunition in it.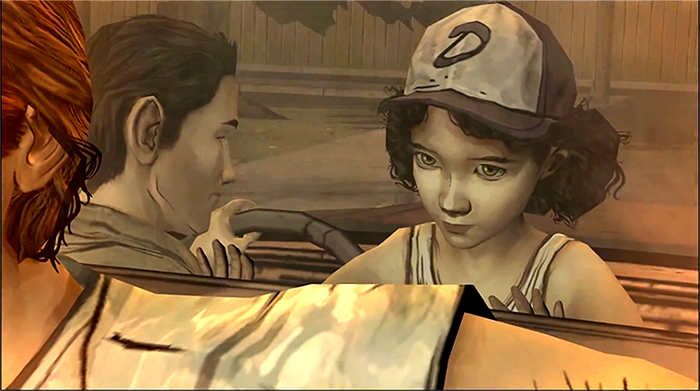 Later, Lee returns to the city, finding it overrun by the walking dead. There he meets another important character ౼ a 9-year-old girl named Clementine, who was hiding in a tree house. Together they find a small group of other people, whose common struggle to survive in the new, violent world becomes the main focus of the first season of the game.
And yes, I just used the term 'season' in a description of a game. I did it because the first major story arc was divided into five episodes, which were available for purchase and playing separately as they were being released. Each of those episodes was developed around a separate story, and each was written by a different person. Together they formed the first season of The Walking Dead video game.
The writing of each episode is also worth mentioning. Each of the story lines was meant to last for just several hours of gameplay, and they all got straight to the point, without any filler moments. At the same time, it didn't feel cramped or rushed, and gave each character enough development in order for the player to understand their insight and motivations. The storytelling aspect, in my opinion, ended up being the strongest point of the game series.
The division of the story into episodes, along with the engaging writing, gave the game a feeling of watching a TV-show – but it is still a game. So, what kind of gameplay does it have? In this game, the story doesn't get in the way of the game. Most of the time is spent walking around solving puzzles in the style of point-and-click games. Of course there are fights with the walkers, but for the most part fights are concluded by simply pressing an appropriate button at the appropriate time when it flashes on the screen.
The major part of the game is dedicated to dialogue. Quite often players simply need to watch a cut scene of someone talking and choose a reply. Here is where the role-playing part of the game is coming into play. During the dialogues, players can decide if Lee is going to be polite and honest with other members of his group, going to become a leader through trust and cooperation, or if he will merely intimidate and lie to the group members, setting a monarchical regime of rule. Many times players will find themselves in a situation where two non-playable characters from Lee's group are in danger, and he can only save one. Each of those decisions, together with dialogue choices, are saved, and therefore affect future episodes – which is what makes the storyline interactive.
You can see that I've said a lot of positive things about the game, and while usually this is the time to talk about its negative aspects, I simply can't pinpoint many of them. The gameplay may seem redundant from time to time – especially for people who prefer 'hit them with a weapon until they run out of the hit points' kind of games – but it works perfectly with what the developers intended. Although it often seems as if you do the same thing over and over, in the end you solve different problems and speak with different people, and so each moment of the game becomes unique. The voice acting is on par with everything else; the art-style, designed to imitate the comic books, makes perfect sense as well. Even people who don't play video games should find it compelling, because the game is simple enough for any novice to understand – but at the same time, i is complex enough to be enjoyable.
All in all, The Walking Dead game is a wonderful addition to the Robert Kirkman's world and a must-have game for any fan of the series. Those who had never been introduced to the world of The Walking Dead could find it appealing as well, because the story is explanatory enough to understand and enjoy.
Developer: Telltale Games; Directors: Sean Vanaman, Jake Rodkin; Writers: Sean Vanaman, Mark Darin, Gary Whitta; Platforms: Microsoft Windows,Mac OS X, Xbox 360,PlayStation 3,PlayStation Vita, iOS, Ouya; Genre: Graphic Adventure; Distributor: Skybound Entertainment.
All photos and properties copyright Telltale Games
Author:
Rinienne
Rin created our website logo and many other graphics that we've used throughout our social media platforms. They're also an avid gamer and gives us insights into all things gaming. They're also heavily involved in our ongoing eBook project.
Read our before commenting.
Please do not copy our content in whole to other websites. Linkbacks are encouraged.