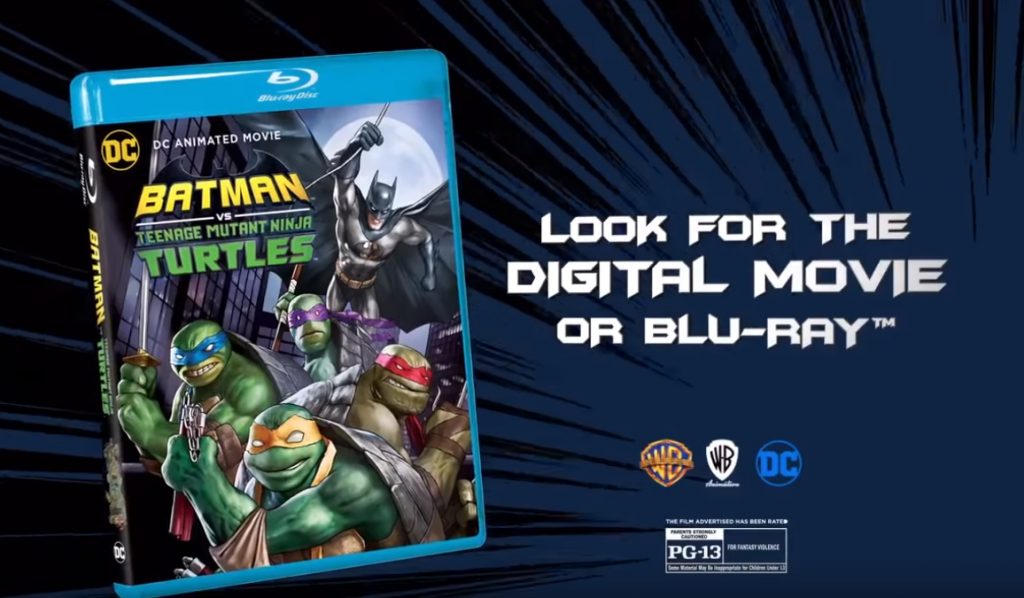 The official trailer for Batman vs. Teenage Mutant Ninja Turtles has been released and it has brought back a lot of memories of when I used to do a similar crossover with my action figure collection as a kid. The animated movie will make its world premiere on March 31, 2019, at WonderCon Anaheim!
Update: March 14, 2019 – Dates for Batman vs. TMNT Digital, Blu-ray, and 4K UHD releases have been added, along with the accompanying special features, to the original article which follows.
–
The trailer made its debut courtesy of Warner Bros. Animation and Nickelodeon. The four ninja brothers enter Gotham and meet the Caped Crusader. Of course, Batman and his Bat Family are suspicious of the turtles, but they soon team up to fight Shredder and the Foot Clan.
Here's the trailer!
The plot has the turtles meeting the Batman through a transdimensional encounter. With Batman having to deal with Shredder and the Foot Clan, the ninja turtles have to face Batman's iconic rogues' gallery.
I enjoyed seeing the turtles being owned by The Dark Knight during the battle shown in the trailer. He is Batman!
The voice cast includes Troy Baker as both Batman and The Joker, Golden Globe winner Darren Criss as Raphael, Kyle Mooney (Saturday Night Live) as Michelangelo, Baron Vaughn (Grace and Frankie) as Donatello, Eric Bauza (The Woody Woodpecker Show) as Leonardo.
Additional voice actors in the film include Rachel Bloom as Batgirl, Tom Kenny as The Penguin, John DiMaggio as Mr. Freeze, Tara Strong as both Harley Quinn and Poison Ivy, Carlos Alazraqui as Bane, and Cas Anvar as Ra's al Ghul.
Jake Castorena has directed Batman vs. Teenage Mutant Ninja Turtles using a script from Marly Halpern-Graser. The story is inspired by James Tynion IV and Freddie William II's comics miniseries Batman/Teenage Mutant Ninja Turtles. The miniseries was released back in December of 2015. The third volume will be available sometime in May this year.
What did you think of the Batman vs. Teenage Mutant Ninja Turtles animated film trailer? Are you excited to watch it? Let us know.
–
Produced by Warner Bros. Animation, Nickelodeon and DC, the film arrives from Warner Bros. Home Entertainment on Digital starting May 14, 2019, and on 4K Ultra HD Combo Pack and Blu-ray Combo Pack on June 4, 2019.
Batman vs. Teenage Mutant Ninja Turtles will be available on 4K Ultra HD Combo Pack ($39.99 SRP) and Blu-ray Combo Pack ($24.98 SRP), as well as on Digital ($19.99 HD, $14.99 SD). The 4K Ultra HD Combo Pack features an Ultra HD Blu-ray disc in 4K with HDR and a Blu-ray disc featuring the film; the Blu-ray Combo Pack features the film in hi-definition. The 4K Ultra HD and Blu-ray Combo Pack include a digital version of the film.
Batman vs. Teenage Mutant Ninja Turtles Enhanced Content (Ultra HD Blu-ray Combo Pack, Blu-ray Combo Pack, and Digital):
Cowabunga, Batman! When Comic Worlds Collide (Featurette) – Super hero crossovers have inspired some of the most unique comics of all time. Explore the concept of the crossover, and see the creativity that ensues when the worlds of Batman and the Teenage Mutant Ninja Turtles meet.
Fight Night in Gotham (Featurette) – DC animated movies have continued to push the realism of hand-to-hand combat on-screen. Take an exciting look at both Batman's and the Ninja Turtles' fighting styles, and how the creators make it feel like you're in the fight!
A Sneak Peek at the next DC Universe Movie, Batman: Hush – An advance look at the next animated film in the popular DC Universe Movies collection.
The Basics:
Product SRP

4K UHD Combo Pack $39.99
Blu-ray Combo Pack $24.98

Blu-ray Languages: English, French, Spanish, German
Blu-ray Subtitles: English, French, Spanish, German, Japanese, Danish, Finnish, Norwegian
Running Time: 90 minutes
Rating: PG-13 for fantasy violence.
Author:
Farid-ul-Haq
Farid has a Double Masters in Psychology and Biotechnology as well as an M.Phil in Molecular Genetics. He is the author of numerous books including Missing in Somerville, and The Game Master of Somerville. He gives us insight into comics, books, TV shows, anime/manga, video games, and movies.

-


Read our before commenting.
Do not copy our content in whole to other websites. Linkbacks are encouraged.
Copyright © The Geekiary