DC Comics: The Big Book of Batman by Noah Smith is a great way to introduce kids to the iconic Caped Crusader. It covers his origin, enemies, friends, skills, weapons, and more.
I was provided a review copy by Downtown Bookworks. The opinions are my own.
When it comes to DC Comics, Batman is one of my favorite characters along with Raven. I love his brooding nature, design, exceptional skills, and the fact that even without superpowers he's one of the strongest fictional comic book characters out there.
DC Comics: The Big Book of Batman is great for introducing kids to Bruce Wayne. Written by Noah Smith, you'll get to know about what makes Bruce such a formidable force, his friends, traits that make him a hero, etc. Everything is written in an easy-to-read manner.
Here's the official description:
The Big Book of Batman is the ultimate guide to the Dark Knight for young fans (ages 4 and up). Illustrated with classic DC Comics art, this engaging picture book covers Batman's origin story, his awesome gadgets, his many entertaining enemies, and his loyal friends including Robin, Batgirl, and Superman. From the Bat Cave to the rooftops of Gotham City, readers will learn about Batman's impressive skills and feats–and will quickly understand why he is one of the most popular super heroes of all time!
This hardcover book shares a similar metallic paper cover as DC Comics: The Big Book of Wonder Woman. The quality of the pages is the same. No need to worry about accidental tears as kids go through this enjoyable read. The pages feature bright colors and retro character designs.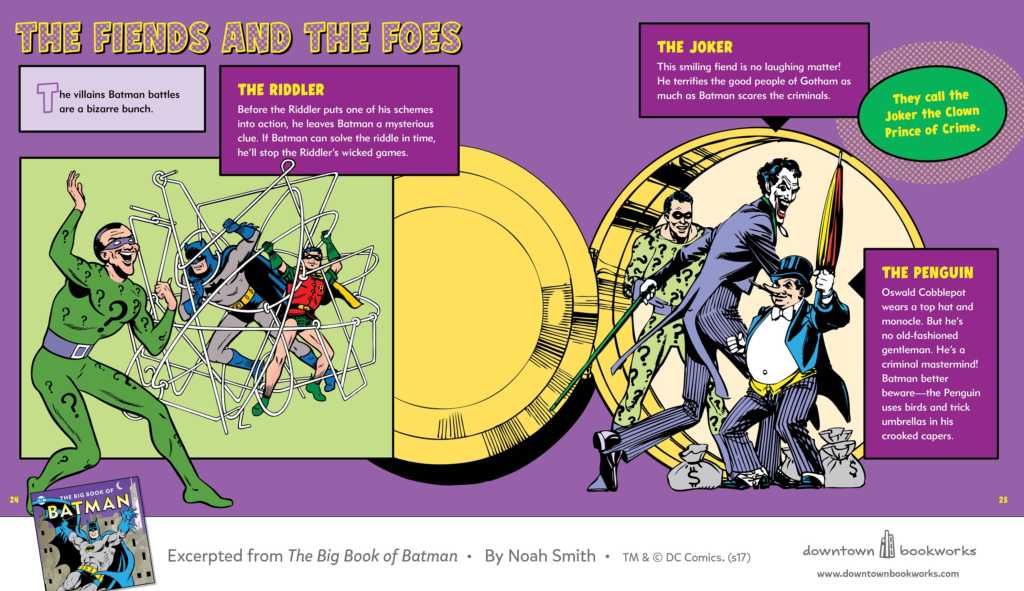 One of the best lessons that kids can gain from this book (which is part of Downtown Bookworks' DC Comics Holiday titles) is that you don't need superpowers to help others. Batman is more than capable of handling situations using his brain. He's also very strongwilled. And while Batman might prefer operating alone, he understands the importance of having friends to help him out sometimes.
If you have a kid who's into Batman, and you want to teach them more about this iconic character, then DC Comics: The Big Book of Batman is a good way to start.
Priced at $16.99 USD, this 32-page title is available for pre-order.
Batman can currently be seen in the live-action Justice League film. His upcoming animated films include a crossover with Scooby-Doo as well as Batman: Gotham by Gaslight.
Are you a Batman fan? Feel free to share your thoughts with us.
Author:
Farid-ul-Haq
Farid has a Double Masters in Psychology and Biotechnology as well as an M.Phil in Molecular Genetics. He is the author of numerous books including Missing in Somerville, and The Game Master of Somerville. He gives us insight into comics, books, TV shows, anime/manga, video games, and movies.

-


Read our before commenting.
Do not copy our content in whole to other websites. Linkbacks are encouraged.
Copyright © The Geekiary