I've been waiting not-so-patiently for the live-action Lady and the Tramp, and while I wasn't disappointed per se – and I actually liked a lot of the updates/changes – I have to admit that it [maybe not surprisingly?] didn't really live up to the animated version.
WARNING: This article contains some spoilers for the live-action version of Lady and the Tramp.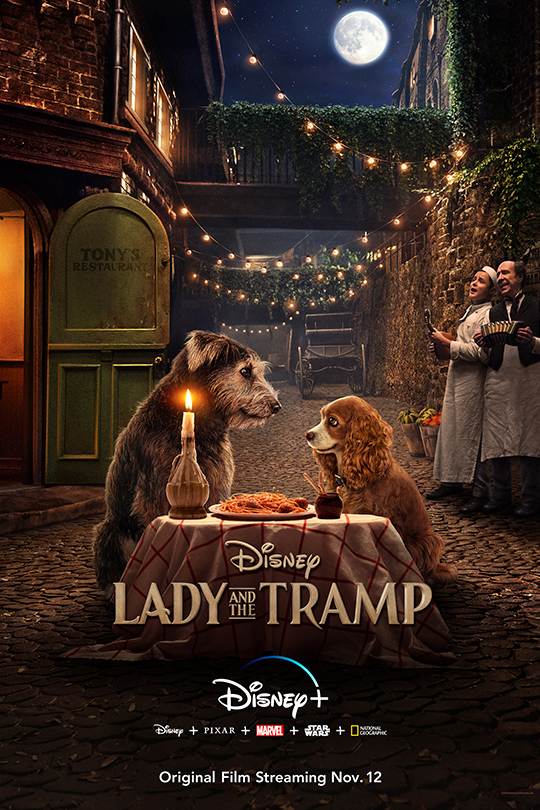 Some time ago I mentioned to a friend that Lady and the Tramp was my favorite OG animated Disney movie, and his response was something along the lines of 'odd choice, that'. And honestly? He's not wrong. In fact, it's such an odd choice that I can't even really explain why I love it so much, though a big part of it is probably because I love dogs. A lot. I mean, I know the animated version has its issues, the biggest being the Siamese cats and their awful song.
Thankfully, while the live action Lady and the Tramp did feature Aunt Sarah's cats, they have a new and completely different song. Did I love this new song? No, but it's certainly a huge improvement over the Siamese cat song…and I think what really matters is that the rest of the music in the movie was spot on, particularly Janelle Monae's version of "He's a Tramp".
One of my biggest issues with this version is simply that I've never really loved watching "live-action" talking animals, and to be honest, the stilted acting on the part of those playing the human characters didn't help, either. This was especially disappointing in the case of Yvette Nicole Brown, who I've always enjoyed and found very funny. Unfortunately, her portrayal of Aunt Sarah didn't really hit home with me.
That said, I did love the fact that many POC actors were included in the movie. That, along with the removal of the Siamese cat song, were a seamless transitions from the original. And while the changes to the end certainly surprised me, they were great as well – in hopes of not spoiling things TOO much, let's just say that Lady got to be the hero, and while there *were* puppies brought into the mix, their portrayal followed the movie's theme of adopting dogs.
The thing is, I think that Lady and the Tramp would have been better served with an animated remake, but I suppose it's too late now to petition Disney for that, so I suppose this live-action version will have to do for now.
–
Note: Disney+ provided a free screener of Lady and the Tramp for review. The opinions are my own.
Tara Lynne is an author, fandom and geek culture expert, and public speaker. She founded Ice & Fire Con, the first ever Game of Thrones convention in the US, and now runs its parent company Saga Event Planning.

-


Read our before commenting.
Do not copy our content in whole to other websites. Linkbacks are encouraged.
Copyright © The Geekiary