Review: "The Heart of Betrayal" by Mary E. Pearson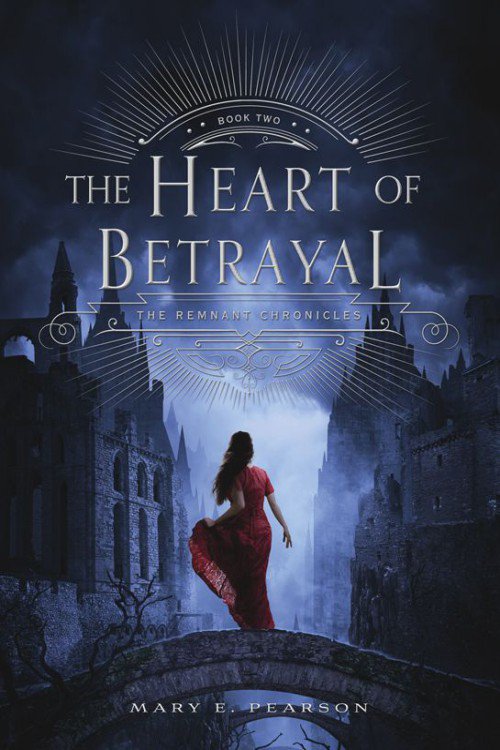 The Kiss of Deception, book one of Mary E. Pearson's Remnant Chronicles series, was one of my top reads of 2014. I was captivated by the story of Lia, the princess who ran away rather than be sold into marriage to a boy she'd never met, and the two boys searching for her with vastly different purposes. The way the first book ended, I was chomping at the bit for the rest of the story. I absolutely could not wait for book two, The Heart of Betrayal, to be published. Thankfully, it did not disappoint.
This should go without saying, but if you've not yet read The Kiss of Deception, stop right here! One of the biggest mysteries of the book is which boy is the prince and which is the assassin, and I spoil that reveal in the very next sentence.
Whereas The Kiss of Deception took place almost entirely in the kingdom of Morrighan and was largely about setting up both the plot and the characters (Lia, prince-in-disguise Rafe, and assassin-lying-in-wait Kaden), The Heart of Betrayal takes place solely in the kingdom of Venda and really begins to explore the politics of the world. Apparently, what is going on is a massive conspiracy that is tied to the books that Lia stole from the office of her father's advisers. Despite the tantalizing tidbits of information we received – primarily due to Lia's careful spying – we still know frustratingly little about the strange and troubling actions of Morrighan's finest scholars. This will no doubt be the main point of the third book, which sadly doesn't come out until sometime next year.
Pearson's world-building is fantastic in this second installment. Venda as a kingdom is so vastly different from the world of the first book that the shift is almost palpable. The bleak and forbidding land in which Lia now finds herself imprisoned is a stark contrast to the bounty-filled paradise of Terravin from The Kiss of Deception. We also learn much more about the people of Venda than we ever did about the people of Morrighan, and I find their development fascinating.
We are also introduced to the Komizar, Venda's feared ruler who goes by his title and doesn't allow anyone to speak his given name. The Komizar as a villain was frightening to behold – a leader who knows how to perform for both his people and his elite inner circle. Rare glimpses of the Komizar before he was in charge showed that he used to be someone worth respecting, but there seem to be no traces of that boy left in the bloodthirsty man who rules Venda with an iron fist. He is at the core of whatever is going on with the political situation.
The love triangle – which I enjoyed in The Kiss of Deception because it wasn't really a love triangle – gets a little more entangled in The Heart of Betrayal. Of course Lia is in a position where she can't really defend herself; her life – and Rafe's life – hangs in the balance. If the Komizar discovers what they are to each other, they will both be killed, and so Lia must pretend to be interested in Kaden. Kaden, who truly does have feelings for her, doesn't seem to realize that she is putting on an act. But there is also the Komizar to consider, and Lia is a prisoner with extreme political importance. I'm not a fan of love triangles, but the one Pearson has crafted isn't what I consider to be a typical love triangle. Lia rarely ever doubts her feelings or finds herself torn between two men. Everything she does is for her survival.
As much as I enjoyed the first book, I was far more invested in The Heart of Betrayal. Now that we know something sinister is going on, I'm extremely eager to find out what it is. But a warning: the ending will make you wish you had a TARDIS so that you can have the final book immediately!
—-
The Heart of Betrayal by Mary E. Pearson is available from Henry Holt & Co. wherever books are sold!
Author:
Jamie Sugah
Jamie has a BA in English with a focus in creative writing from THE Ohio State University. She self-published her first novel, The Perils of Long Hair on a Windy Day, is available through Amazon. She is currently an archivist and lives in New York City with her demon ninja vampire cat. She covers television, books, movies, anime, and conventions in the NYC area.
Read our before commenting.
Please do not copy our content in whole to other websites. Linkbacks are encouraged.