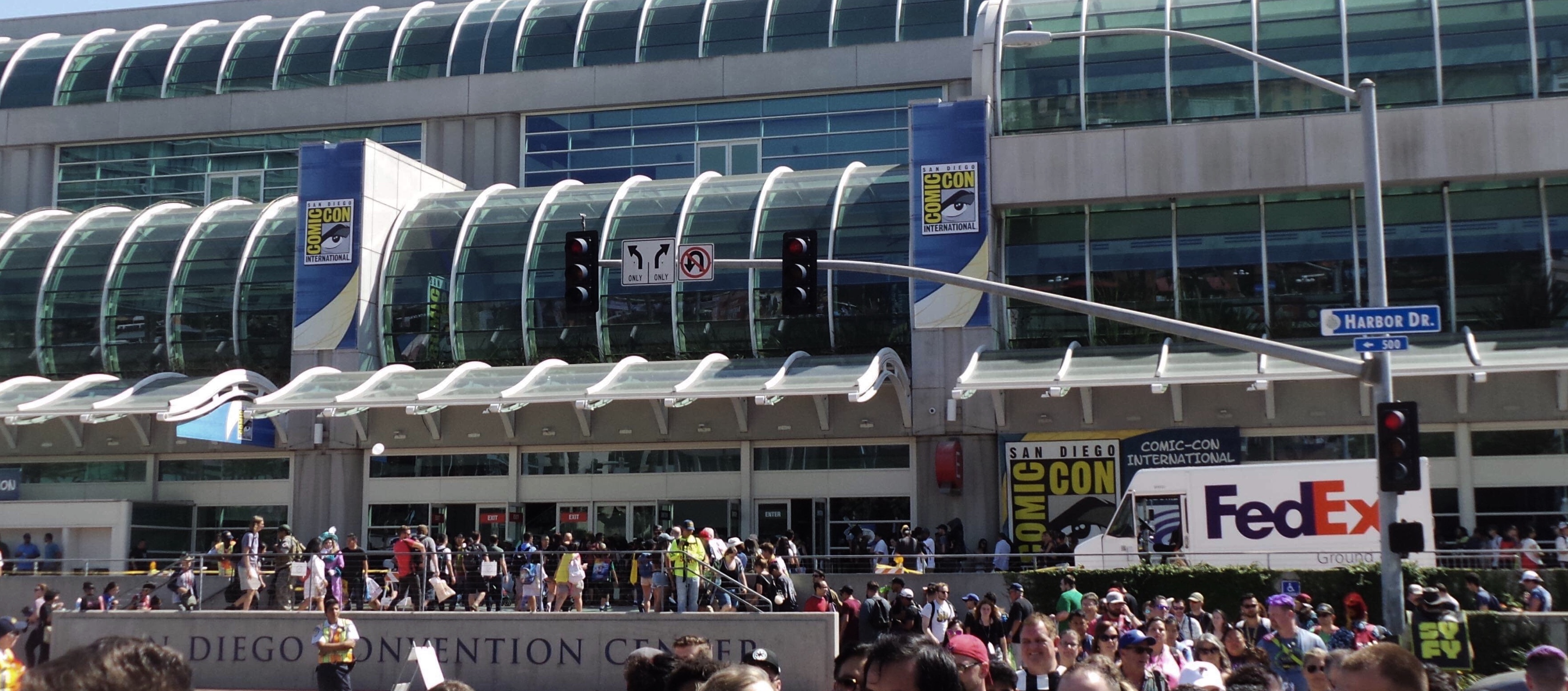 For the second year in a row, CCI has announced official SDCC road closures on Harbor Drive in front of the convention center.
The SDCC road closures will be along Harbor Drive between First Avenue and Park Boulevard between 7:00 am and 10:00 pm during the three full days of the con (Thursday, Friday, and Saturday), between 3:00 pm and 10:00 pm on Preview Night (Wednesday), and between 7:00 am and 8:00 pm on the shorter last day of the con (Sunday).  This generally covers the highest points of activity around the con center during the five day period where it hosts SDCC related programming.  A Comic-Con Badge will be required to enter "any part of the San Diego Convention Center, including the front drive, terraces, sidewalks, Plaza Park area, or the Ace Parking underground garage during the event times listed."  More information can be found here.
The Good
These changes were implemented last year for security reasons, but have also had the added benefit of giving con goers more space in front of the convention center to move around.  The crosswalk across Harbor into the Gaslamp can get notoriously congested,  It gets especially dangerous around the train tracks.  While it still has a habit of getting a bit dicey and clogged up in that area, this greatly relieves pressure overall and has helped with crowd flow.  Overall, this is a good thing.
The Bad
The SDCC road closures can be a bit confusing for Uber and Lyft drivers.  Many of them didn't expect it and had difficulty navigating around the road blocks.  The Hilton Bayfront and Marriott Marquis and Marina, though accessible, have been a bit tricky to get to for drivers who hadn't expected the road block.  Additionally, traffic in the turn offs to get away from the closure can get a little backed up.
What To Do
If you're driving yourself, prepare to go around it in advance.  Don't take the roads that hug against the closures if you can help it, though if you need to get to the underground parking structure, Hilton Bayfront, or Marriott Marquis and Marina, you may have to get close to the closure whether you want to or not.  Plan a little extra time in case all the confused people who don't pay attention to these sorts of things cause a back up.
If you are trying to order an Uber or Lyft from the con center, walk a little ways away.  With Lyft there are special designated pick up spots that you can select.  I'm particularly fond of the ones near the Seaport Village as they are a couple blocks from the crowd and easy for drivers to find.  The Gaslamp can sometimes get a bit tricky as Fifth Avenue is also generally closed for a couple blocks during the con and the roads are small, but you may have some luck if you walk away from this area a bit deeper into the district.
Short version: Don't set your location in front of the con center because they will not be able to get to you. Walk a few blocks away.
–
Overall, this change is good.  The inconvenience to con goers is fairly small if you prepare properly, and the benefit is large.  Just follow the tips above and you should be fine.
Angel is the admin of The Geekiary and a geek culture commentator. She earned a BA in Film & Digital Media from UC Santa Cruz. She's contributed to various podcasts and webcasts including An Englishman in San Diego, Free to Be Radio, and Genre TV for All. She's written for Friends of Comic Con and is a 2019 Hugo Award winner for contributing fanfic on AO3. She identifies as queer.

-


Read our before commenting.
Do not copy our content in whole to other websites. Linkbacks are encouraged.
Copyright © The Geekiary