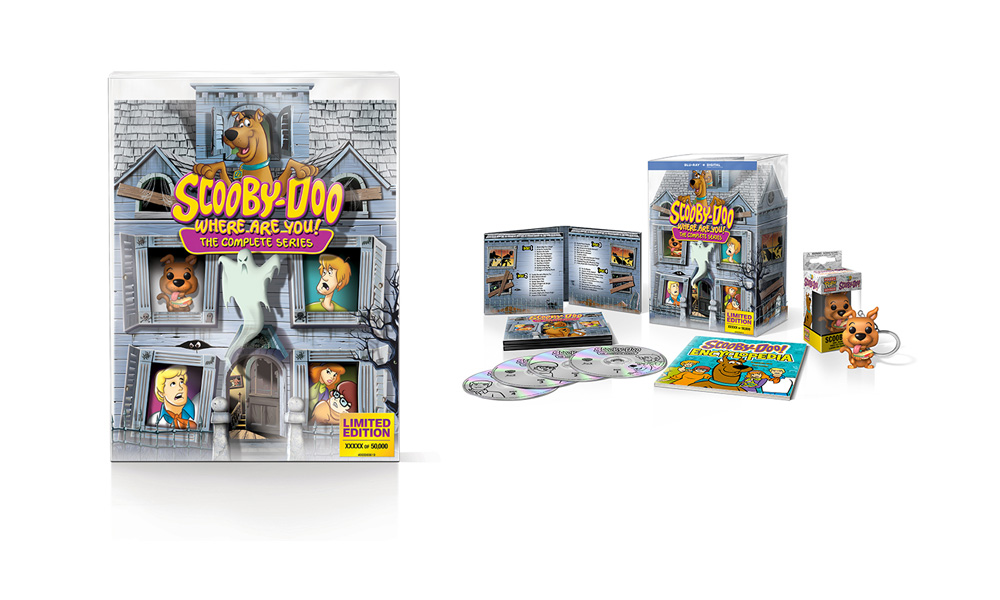 Scooby-Doo Where Are You! has been my favorite cartoon series since my early childhood, so you can only imagine how excited I am to talk about the official Blu-ray edition of the original series. Packed with tons of extra features and fun collectible pieces, this box set is perfect for new or old Scooby fans!
The original Scooby-Doo: Where Are You! series first aired on television back in 1969. The first two seasons of the show were aired under the title of "Scooby-Doo: Where Are You" and consisted of 25 fantastical episodes, with equally as memorable villains, all wrapped up together with that catchy "Scooby-Dooby-Doo" theme song.
Fast-forward to 1975. New episodes centered around our favorite canine sleuth and pals began to air with the same mystery-solving formula, but these episodes aired under a new TV show title, The Scooby-Doo Show. Eventually, 16 of these newer episodes found themselves to be heralded as the "third" season of the original series. And as of now, these episodes are included within the release of Scooby-Doo DVD/Blu-ray box-set editions of the show.

When I was younger, the ability to own episodes from this show for home entertainment relied mainly with what was available on VHS. Yes, I had a lot of VHS tapes with episodes from the show, but at most each tape had anywhere from 3-5 episodes. Additionally, the episodes were usually completely random and not in the order of how they aired on TV. It wasn't until I was much older that full season collections of the series finally started to come around, thus allowing Scooby fans to watch all of the episodes back-to-back, without missing out on the rest of the mysteries.
When the news first broke back in June that there would be a 50th anniversary Blu-ray edition of the original show, I was incredibly excited and immediately pre-ordered it. And now, it has been finally released and delivered to my house and I don't even know how to properly contain my inner geek.
What's Included:
The 50th anniversary Scooby-Doo! Where Are You: The Complete Series comes in a limited edition "Mystery Mansion" box set design. The "Mystery Mansion" itself seems to be constructed of hard, durable cardboard, with a completely removable "roof" lid. The inside contents of the "mansion" consist of a 4-disc foldable sleeve with the 41 complete episodes from the show. It also includes a 31-page "Scooby-Doo Encyclopedia" booklet and pocket-sized Scooby POP! figure keychain.
The whole "Mystery Mansion" case is cool, because you can keep everything tucked away inside and then display the house as a collectible piece or spooky decoration somewhere around your house. You can even remove its contents and display the mansion in a display case for extra safe keeping. The choice is up to you!
The classic Scooby-Doo: Where Are You episodes begin with episode 1, "What a Night for a Knight" and end with episode 25, "Don't Fool with a Phantom". The Scooby-Doo Show begins with episode 26, "Watch Out! The Willawaw!" and ends (in this set) with episode 41, "The Warlock of Wimbledon". Don't worry, though. You'll be able to recognize the distinction due to the very different theme songs for the two shows.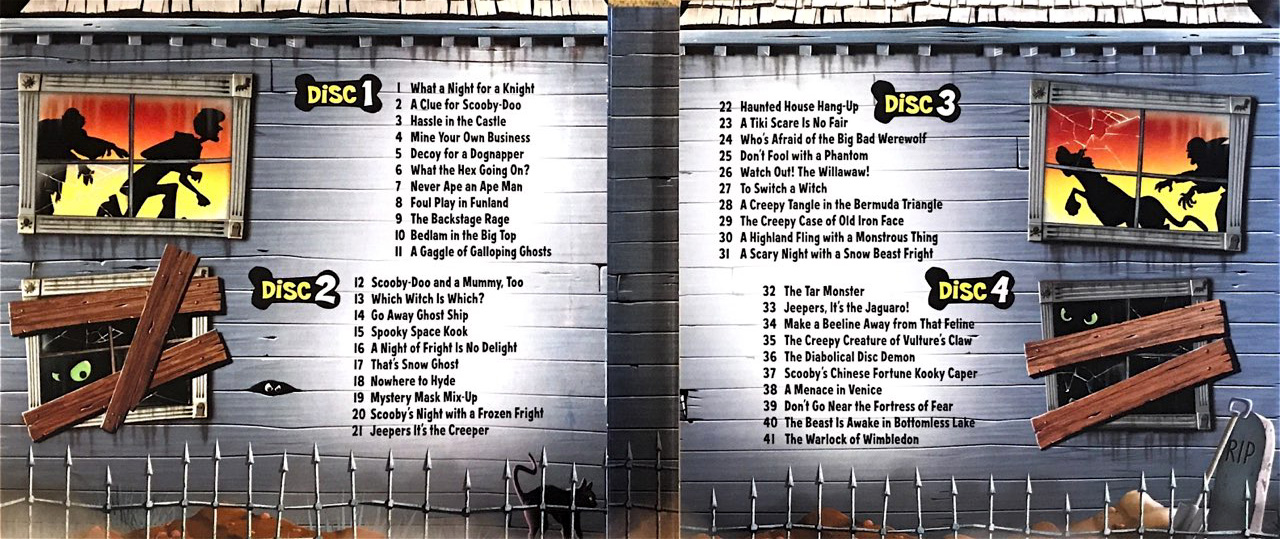 This limited edition box set also comes with the 31-page "Scooby-Doo Encyclopedia" booklet, which is a super fun thing to read through. It includes character profiles for Scooby, Shaggy, Fred, Daphne, and Velma -as well as profiles for some of the friendly characters that have met up with Mystery Inc. throughout the years, such as Vincent Van Ghoul, Flim-Flam, Scooby-Dum, Blue Falcon, and Dynomutt. It also includes profiles for some of the famous villains that have been unmasked.
The encyclopedia booklet that is included with this box set is just a booklet. Available for additional purchase online, there is a "full" version of the encyclopedia with 97 additional pages and extra character profiles for the iconic villains from the show. However, this full version doesn't come with the box set.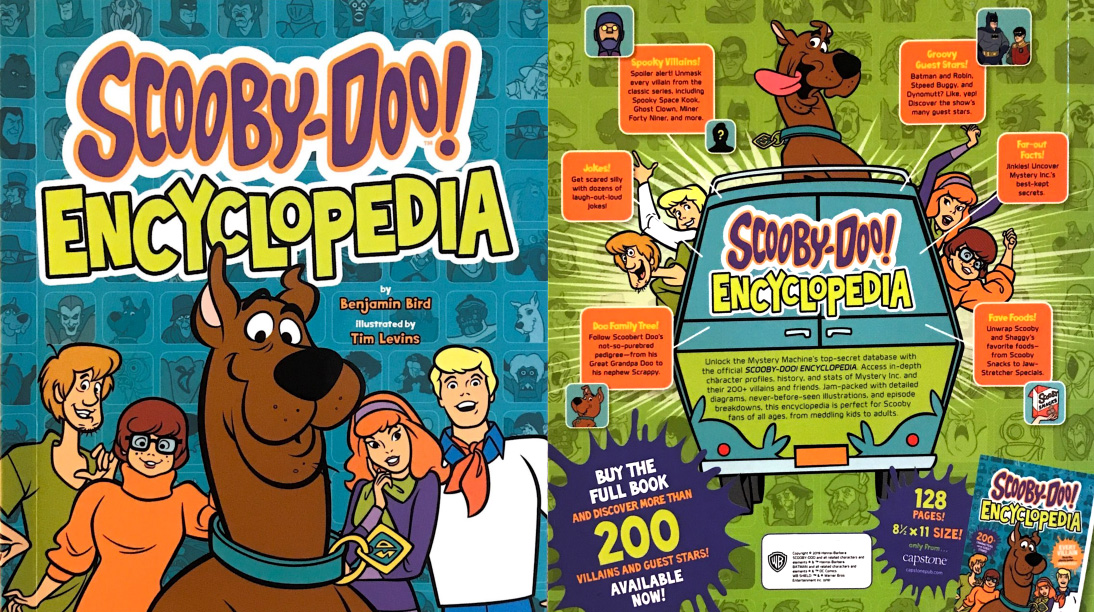 Special Features:
There are four NEW bonus features included with this box set, all located on the 4th disc of the set. It also includes previous bonus features that have been repeatedly released within other box-set collections.
My Life with Scooby-Doo: Frank Welker's Animated Journey: An amazing documentary piece with Frank Welker, a.k.a the voice behind Fred Jones. This is such a fun thing to watch because Welker has voiced the character of Fred since 1969 and continues to voice the character in modern adaptations of the show and movies. (17 minutes).
A Scooby-Doo for Everyone: Explores the history and evolution of the various Scooby show incarnations, studying what exactly keeps these characters so popular and enjoyable throughout decades. It also talks about the classic story-telling formula and must-have "tropes" that makes the show so recognizable. (7 mins, 30 secs).
50 Years of Scooby Snacks: A celebration of the 50 years that we've spent with our favorite mystery-solving team. This bonus feature explores the expanse of merchandising, including comics, lunchboxes, theme park attractions, and even graham cracker Scooby Snacks. It also explores the history behind real-life celebrities jumping into the animated world of Scooby. (9 minutes).
Scooby-Doo! and the Lost City of Gold Trailer: This bonus feature explores the upcoming stage production of Scooby Doo and the Lost City of Gold, which will come out in 2020. It also explores the music production and costume design of the play. (2 mins, 26 secs).
The 50th anniversary Scooby-Doo: Where Are You! The Complete Series Blu-Ray edition is currently available for purchase online for $89.99. The box set comes with a limited edition "Mystery Mansion" case, with 41 full episodes spread across 4 discs, an encyclopedia booklet, and POP! figure keychain. It also includes brand-new bonus features.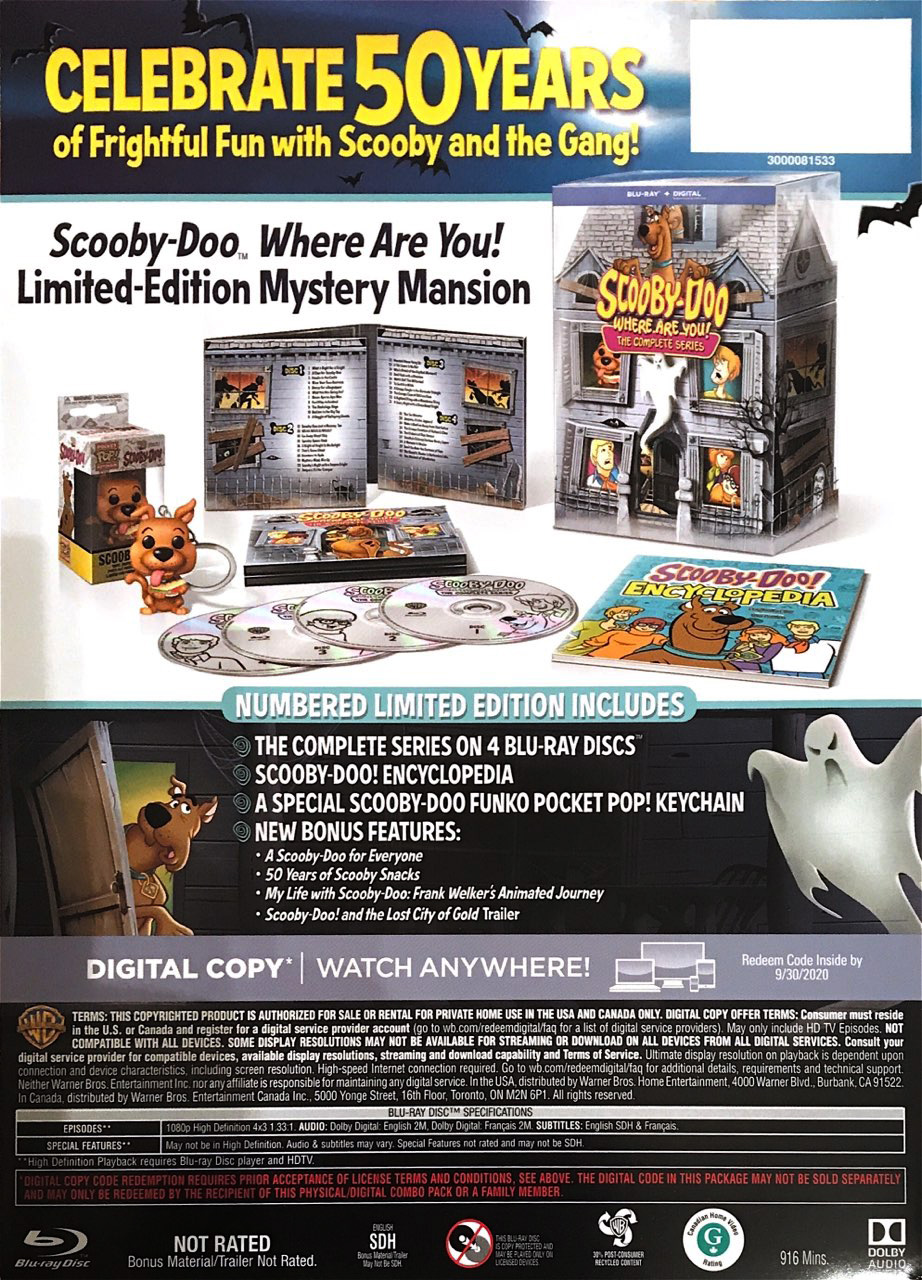 Are you planning on picking up this limited edition box set?
Let us know in the comments down below!
Author:
Rodney
Rodney has a bachelor's degree in English Literature. Aspiring to one day write television shows and novels, he's an avid slash-shipper and enthusiast for all things gay. Rodney's especially a lover of magic, mystery, and superheroes—holding Harry Potter, the X-Men, and Scooby-Doo close as his own personal favorites. But when he's not fantasizing about how cool it would be to have magic, he's busy writing fanfiction and re-watching old TV shows.

-


Read our before commenting.
Do not copy our content in whole to other websites. Linkbacks are encouraged.
Copyright © The Geekiary