American Gods Season 2 Needs to Pick up the Pace
American Gods Season 2 premieres on Starz on March 10, and though I'd like to say that the series didn't suffer overmuch from the loss of its showrunners, the slow pacing of the first two episodes makes the near two-year wait for them almost intolerable.
American Gods Season 2 has not had an easy run. Original showrunners Bryan Fuller and Michael Green left the show due to creative and financial differences, a few big-name cast members like Gillian Anderson and Kristin Chenoweth opted not return as well, and the extent of Neil Gaiman's involvement is unconfirmed, as he was more closely working with the Amazon adaptation of his novel Good Omens.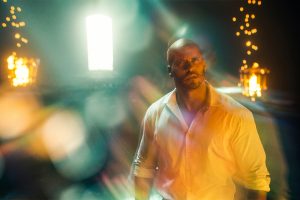 The first two episodes of American Gods Season 2 have the same spectacle, the same gorgeous cinematography, the same grandiose feel, and the same stellar score and music choices as did Season 1. Episode 1, "House on the Rock", in particular is a beautiful episode, and I think fans of the book will not be disappointed in one of the more well-known scenes. Without giving away too many spoilers, I think the carousel scene is quite well done, and the aftermath is shot spectacularly, with a nice play on light and color.
There are some moments that shine. The always entertaining comedic stylings of Laura and Mad Sweeney are back. We are introduced to some new characters, like Mama-ji (Sakina Jaffrey), the Hindu goddess of war, and Mr. Town (Dean Winters, aka the Allstate "Mayhem" guy), a spook working for Mr. World. And while Season 2 has yet to offer any godly origin stories, we do get flashbacks for some of our more mortal characters.
That said, the pace is staggering along in fits and starts. Season 1 only covered about the first fifth of the book. The meeting at the House on the Rock takes place in Chapter 5. Knowing that, it makes waiting for something to happen extremely frustrating. American Gods is an almost 500-page book, so you could expect it to take more than one season to tell the story. However, I think they're spreading it too thin. After two years with no new episodes, people may expect something a little more from the return, and I'm not sure American Gods Season 2 is up to the task. "House on the Rock" and "The Beguiling Man" are beautifully-shot and well-acted, but they don't really progress the story. If the rest of Season 2 plods along like the first episodes do, viewers may lose interest. Things need to start happening, and fast, or the series will drown in its own ambition.
In short, the changes behind the camera aren't immediately noticeable. New showrunner Jesse Alexander is a frequent collaborator of Fuller, and I believe he managed to keep much of the same vision (the odd transitions are still there). However, the loss of Anderson in particular is something that will surely be felt throughout the season, as Media is a fairly important character. Mostly, I believe the delayed release is the biggest hurtle for American Gods Season 2, and no matter how pretty and flashy the episodes, it's very difficult to overcome such a long gap.
American Gods Season 2 premieres Sunday, March 10, at 8pm ET on Starz.
Author:
Jamie Sugah
Jamie has a BA in English with a focus in creative writing from The Ohio State University. She self-published her first novel, The Perils of Long Hair on a Windy Day, which is available through Amazon. She is currently an archivist and lives in New York City with her demon ninja vampire cat. She covers television, books, movies, anime, and conventions in the NYC area.
Read our before commenting.
Please do not copy our content in whole to other websites. Linkbacks are encouraged.