Marvel finally decided to reveal why the time-displaced original X-Men can't go back to the past and yes, it is kind of stupid.
This post contains spoilers for All-New X-Men Issue 19. You've been warned.
The original X-Men were brought to the present timeline by Beast back in 2012. It was Brian Michael Bendis who wrote the arc and it made sense for fans to worry about what it could mean. Of course, keeping the five originals in the present timeline could end up wrecking reality. Beast was even confronted for making such a decision and risking reality.
Since the Battle of the Atom fans have been waiting to see when the originals would return. However, that didn't happen. We saw the teenagers develop over the years. Scott got a solo-series and ended up becoming a member of the Champions. A young Bobby Drake came out as gay. A young Beast picked up magic, and Angel turned into an Omega-level being. Jean will be leading the team in the upcoming X-Men: Blue series. She'll also have her own solo-series. All in all, the young X-Men have found a place for themselves in the present.
In All-New X-Men Issue 19 the young Beast used magic to take his team into the past, with only Scott being eager to return. In a few panels, writer Dennis Hopeless revealed why the teenagers can't return.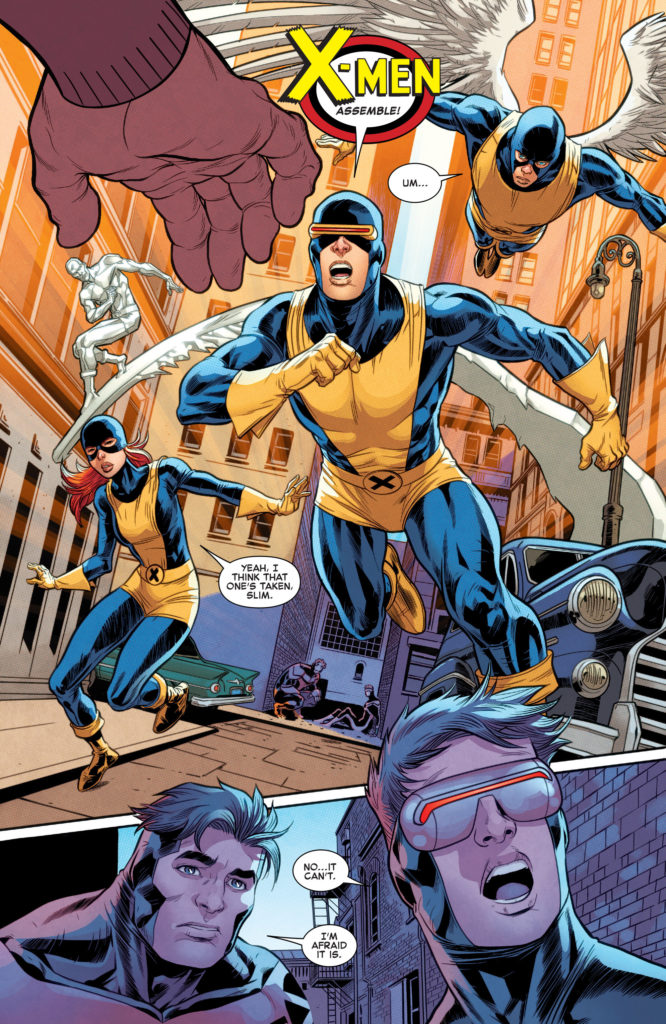 Turns out that the past of the timeline they're already in still has the original X-Men. So, what does it mean? Frankly, it could mean a lot of things considering how convoluted the X-Men franchise is.
The young X-Men were never from the original timeline that caused a lot of problems for the older Beast, with the rest of the mutants worrying that reality was going to shatter. This does feel like a cop-out because writers have spent countless issues talking about how the originals being in the present can alter reality.

The Secret Wars event ended up changing the timeline the young X-Men came from.

The timeline is capable of healing itself.

Some powerful entity (read Marvel) decided to keep the young X-Men in the present because their comic books are still selling.
Sigh! Whether you like the young X-Men or not one thing is for sure and that's that they're here to stay.
What do you think of the original X-Men from the past being from a different timeline? Have you read All-New X-Men Issue 19? Let us know.
Author:
Farid-ul-Haq
Farid has a Double Masters in Psychology and Biotechnology as well as an M.Phil in Molecular Genetics. He is the author of numerous books including Missing in Somerville, and The Game Master of Somerville. He gives us insight into comics, books, TV shows, anime/manga, video games, and movies.

-


Read our before commenting.
Do not copy our content in whole to other websites. Linkbacks are encouraged.
Copyright © The Geekiary