The Geekiary's Fall TV Schedule!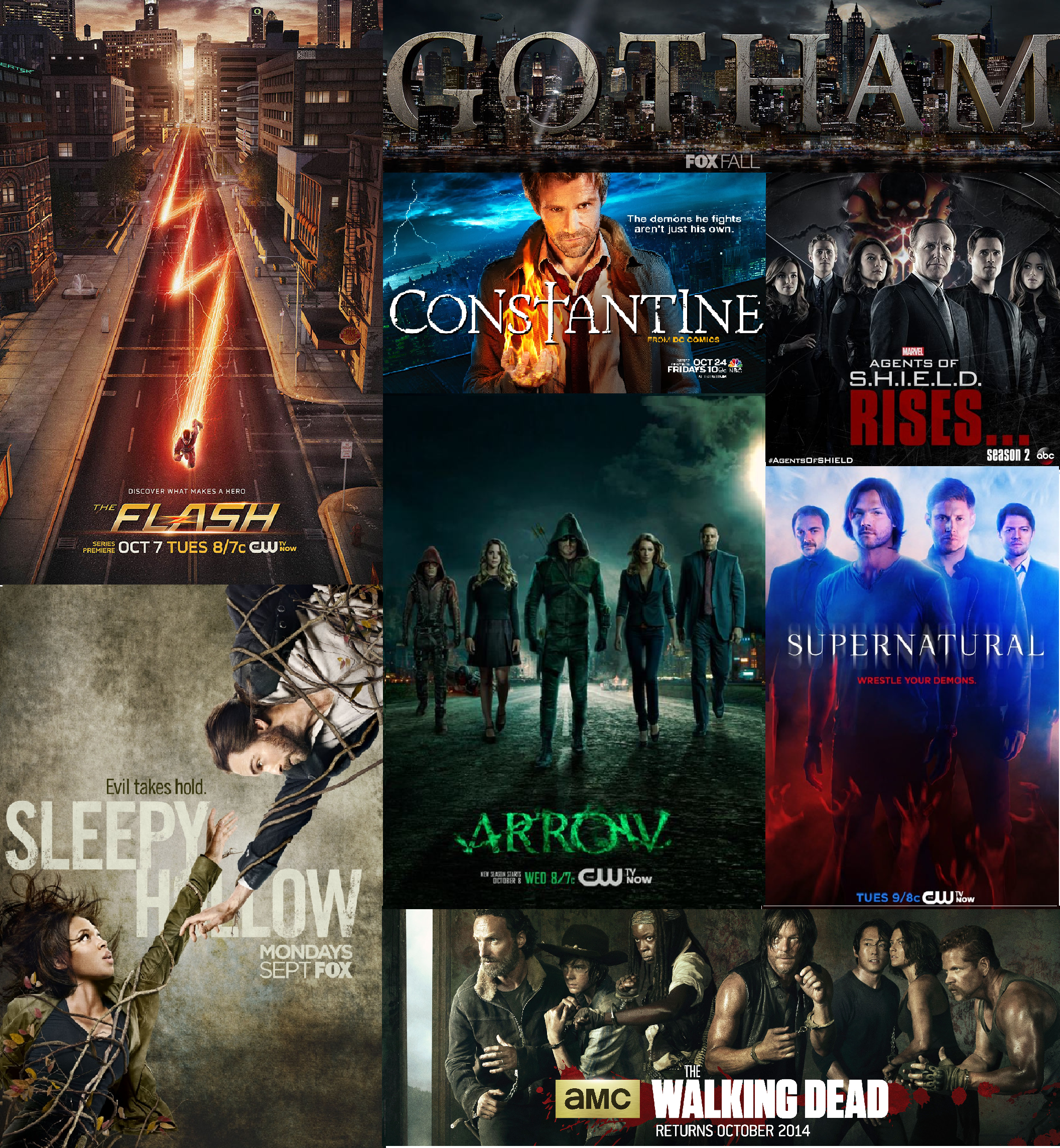 The Fall TV season is about to begin! We'd like to let you know what we plan on watching and what type of coverage you should expect.
New Shows
It should come as no surprise that all of the new shows we're looking forward to this season are comic book related .  It's definitely the year of the Comic Book Show!  Which one will you be watching?
Premieres Monday September 22nd on Fox.
Summary:  Gotham will focus on the origins of many favorite Batman characters with a young Detective Gordon taking center stage.
What to expect:  We're happy to have Dot's early review of the pilot, but we aren't sure who will be reviewing it weekly quite yet.  Stay tuned!
The Flash
Premieres Tuesday, October 7th on the CW
Summary:  This series is a a spin off of the popular Arrow TV series (which we will also be reviewing) and based on the DC comics.  The show will focus on Barry Allen, who is given superhuman speed and becomes the superhero The Flash.
What to expect:  We are grateful that guest blogger Dot has had a chance to see the pilot and give us her review.  You can expect her to write occasional updates on the show with weekly episode reviews by Bandit.
Premieres October 24th on NBC
Summary:  This show based off the popular Hellblazer comics, which focus on Constantine as he battles to defend humanity from the forces of darkness.
What to expect:  It's safe to say this show has caused a lot of discussion here at the Geekiary already.  It's inspired 5 articles before it even premiered.  Angel, who has written four of the five articles on it already, will be tackling reviews on a weekly basis.  She's grateful that she had the chance to review the pilot already.
Returning Favorites
Sleepy Hollow
Returns September 22nd on Fox
Summary: This modern day Sleepy Hollow story is heading into its second season.  The conflict with supernatural forces just got much more complex for Ichabod and Abbey.
What to expect: We'll be reviewing this show weekly.  Both Undie Girl and Kerry will be contributing.
Agents of SHIELD
Returns September 23rd on ABC
Summary:  This MCU inspired TV show will be heading into its second season.  It focuses on a small group of SHIELD agents headed by fan favorite Agent Coulson.  How will his group deal with the Hydra fall out?
What to expect: Look forward to weekly reviews from Bandit.
Returns October 7th
Summary:  Demon Dean.  No really.  As this cult favorite TV show heads into its 10th season (and nears its 200th episode) they'll be tackling the difficult topic of Dean's recently acquired demonic nature.
What to expect:  Angel and Bandit will be taking on weekly reviews with special guest analysis from Dot and Emily.  We're proud to continue reporting on the show that inspired the creation of this website and we're grateful for the support of the SPN Family.
Arrow
Returns October 8th on the CW
Summary: This comic book inspired show will be heading into its third season.  It focuses on Oliver Queen, who takes on a vigilante disguise to fight corruption.
What to expect: We are happy to have Dot to write occasional updates on the show with weekly episode reviews by Bandit, Undie Girl, and Tara.
Returns October 12th on AMC
Summary:  Terminus ended up being not such a great place after all.  How will Rick and his group get out of this one?
What to expect: Our Walker Expert Tara will be reviewing this show on a weekly basis.
–
What will YOU be watching? Let us know in the comments!
Stephanie "Angel" Wilson is the admin of The Geekiary and a geek culture commentator. She earned a BA in Film & Digital Media from UC Santa Cruz. She's contributed to various podcasts and webcasts including An Englishman in San Diego, Free to Be Radio, and Genre TV for All. She's written for Friends of Comic Con and has essays published in Fandom Frontlines.
Read our before commenting.
Please do not copy our content in whole to other websites. Linkbacks are encouraged.