Sleepy Hollow 2×3 Review: "Root of All Evil"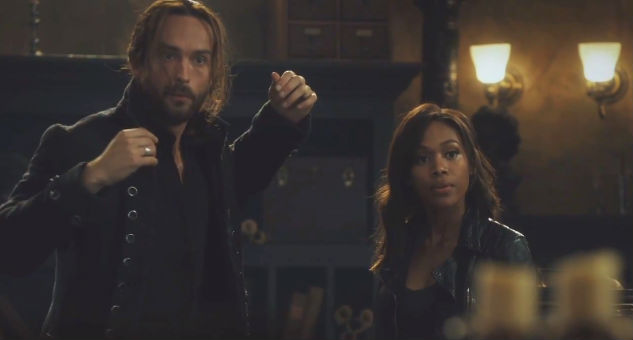 Sleepy Hollow continues its second season with plenty of suspense, family drama, and shipper-friendly moments featuring our new favorite foes of the supernatural, Ichabod and Abbie.
"Root of All Evil" was an entertaining episode but it wasn't anything fresh. While last season fans were worried about the show employing the "monster of the week" trope, this season seems to have already plateaued, which, being a huge fan, I sincerely hope this is not the case.
This episode started with a surprisingly violent bank robbery and Ichabod conveniently knowing Benedict Arnold (did he seriously personally know every major figure in the American Revolution?) and therefore, was able to point Abbie, as he always seems to do, in the right direction of what caused the bank teller to suddenly rob the bank: the cursed coin of Judas.
The rest of the episode was focused on Ichabod and Abbie struggling against the iron will of the new sheriff and Jenny and Abbie butting heads regarding the incarceration and subsequent suicide of their mother. Katrina is still hanging out with Abraham and Parrish is indiscriminately evil. Oh no, I'm starting to yawn!
The high points of the episode was Ichabod being well-aware of gay couples, thank you very much, going to confession at a church in an effort to distract the priest from some illegal doings, and also seemingly jealous and suspicious of Nick Hawley, a shady bounty hunter. There were definitely several moments that hinted at a supposed future romantic relationship between the two leads. I'm torn about a romantic relationship between Ichabod and Abbie; the fangirl in me wants it, but the viewer and fan of this show suspects that this would be a mistake in the show's narrative; especially this early in the series' run.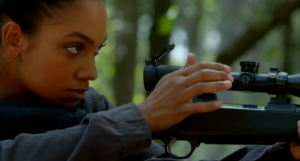 Along with the surprisingly violence of the bank robbery, there was also a grim explosion and a tense standoff between Jenny and Abbie. I enjoy exploring the relationship between the two sisters and I hope the show continues to do so. If anything, theirs is the most interesting, complex, and engaging relationship on Sleepy Hollow.
I was thrown, however, by some of the unanswered questions from last week's episode: what happened to the kindred and the horseman of death's fiery avatar? They just disappeared and weren't mentioned again, which seems difficult seeing as their quite literally monsters on the loose. Sleepy Hollow, don't go all Teen Wolf on me!
The episode ended with a resolution between the two sisters and some emotional growth from Abbie as she considers her mother's difficulties and death. It also featured the roguish Nick so I suspect that we'll be seeing more of him in upcoming episodes.
I hope the next episode picks up the pace a bit more and engages with the audience a bit more directly. While this wasn't a weak episode, it was simply lackluster, which was a definite shame.
What did you think of the latest episode of Sleepy Hollow? Tell us what you thought below!

-


*Read our before commenting.*

Please do not copy our content in whole to other websites. Linkbacks are encouraged.