Teen Titans Go! 'Eat. Dance. Punch!' Season 3 DVD Part 1 Review

Teen Titans Go!: 'Eat. Dance. Punch!' Season 3 Part 1 DVD contains 26 episodes from the popular show's third season and gives fans over four hours of humorous fun.
I had my inhibitions regarding the show when it first started to air but after deciding to watch it I quickly became a fan. Teen Titans Go! is very self-aware and I guess that's part of the charm when it comes to allowing the older audience to enjoy it as much as the kids, if not more. Having the original voice cast from Teen Titans also works in the show's favor.
The series has proven very successful for Cartoon Network. It even led the network to brand Thursday's cartoon block as "New Titans Thursday". The first two seasons have already been released on DVD so the third season was bound to follow suit. The 'Eat. Dance. Punch!' Season 3 Part 1 DVD collection was released by Warner Bros. Home Entertainment (WBHE) and DC Entertainment on May 31, 2016. The 2-disc collection has been priced at $19.97 SRP which is quite affordable considering the number of episodes offered to fans and overall re-watchability.
Here's a synopsis:
"Robin, Cyborg, Raven, Starfire and Beast Boy are back for the latest installment in the Teen Titans Go! series with another season of crime fighting and gut-busting adventures. Hilarity ensues as everyone's favorite heroes must band together to fight crime and deal with everyday adolescent issues. Whether the capes are on or off, the gang is always up to something!"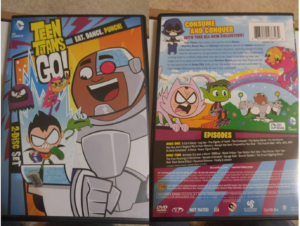 Both discs in the set contain 13 episodes each. While Disc One has the first 13 episodes from the show's third season, the selection of episodes in Disc Two felt a bit weird to me. Disc Two contains season three episodes from "Animals, It's Just a Word!" to "Pyramid Scheme" (Episode 14-25). However, it then skips the rest of the four episodes and ends things with episode 30 titled "Finally a Lesson". I don't know the reason behind such a decision but regardless, the DVD collection is still enjoyable to watch.
While I have fun watching almost every episode of the show, especially the ones focusing on Raven, if I were to choose from the ones present in the current DVD collection, they would have to be "Dignity of Teeth" and "The Fourth Wall" from Disc One, and "BBBDay!" and "The Cruel Giggling Ghoul" from Disc Two.
All of the included episodes, and the discs they're on, are written on the back of the box for convenience. The box itself is of a standard size and has a tray for the second disc. The DVDs offer WB's standard static anamorphic widescreen menus. There are also options to play all of the episodes or select the specific episodes you want to play. You can also choose the subtitles you want between English and French. The Dolby Digital 2.0 audio tracks are crisp and the visuals are bright. So, I didn't encounter any problems as far as the quality of the product is concerned. I would've preferred some extra content in the DVD collection such as cast interviews or even a photo gallery but that's just me wanting more Teen Titans Go! in my life.
Are you a fan of Teen Titans Go!? Have you bought the Season 3 Part 1 DVD collection yet? Let us know!
Note: I would like to thank Warner Bros. Home Entertainment for sharing a copy of the DVD release in exchange for an honest review.
Author:
Farid-ul-Haq
Farid has a Double Masters in Psychology and Biotechnology as well as an M.Phil in Molecular Genetics. He is the author of numerous books including Missing in Somerville, and The Game Master of Somerville. He gives us insight into comics, books, TV shows, anime/manga, video games, and movies.
Read our before commenting.
Please do not copy our content in whole to other websites. Linkbacks are encouraged.